George Strait Covers Billboard, Says 'I've Got a Lot Left in the Tank'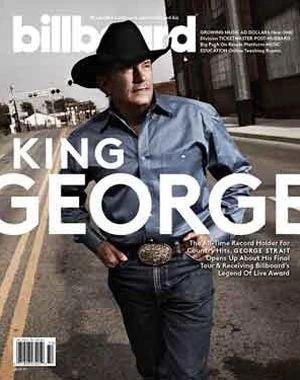 George Strait doesn't do many interviews, but he did grant Billboard the rare chat in his new cover story. Strait has always maintained an air of mystery, preferring to let his music do the majority of the talking. But he does have a message for the music business and for fans.
"Don't give up on me just yet. I've got a lot left in the tank," Strait said. So while he is closing the chapter on touring, he's not ending his music-making career.
Growing up on a rural farm and ranch lead to his discovery of the genre he would come to dominate with 60 No. 1s. "My dad didn't really listen to music much," he said. "If he had a radio on, it was the news or farm and ranch reports. There were a few country songs on the jukeboxes around town, so I was definitely exposed to it."
The turning point did come, though. "I didn't fall in love with it until I got out of high school and heard a man by the name of Merle Haggard singing songs like 'Okie From Muskogee' on the radio," Strait revealed. "That pretty much did it for me. Then I listened to his tribute album to Bob Wills called 'A Tribute to the Best Damn Fiddle Player in the World,' and that's what hooked me on western swing music."
He also recalled his military service, having joined the army in '72, something he does not have one ounce of regret about since it provided the discipline, the training and the opportunity to do music. "I wouldn't trade those days for anything, even though they were tough at times," the singer remembered, pointing out that it wasn't a pause for his career but a launchpad for it.
"I wouldn't look at it as being sidetracked so much as being a stepping stone in my life and career," the King of Country mused. "The Army gave me a job and structure in my life that I really needed at the time. I'm not sure I would be sitting here doing this interview otherwise.
"After playing in a band during my Army days, I was ready when I got out to continue my work toward eventually landing a record deal. I enrolled in college when I got out of the Army on the GI Bill. This allowed me to go to school with a small paycheck, and I was able to play music to supplement that. It made it a little easier to feed my family that way. So I wouldn't say the Army or college sidetracked me at all. In fact, it was just the opposite."
As for what fans can expect on the 2014 leg of his Cowboy Rides Away tour that finds him retiring from active touring but not from music, he joked, "Me and the whole band are going to be dancing onstage next year. Wait till you see the little outfits. We have some surprises up our sleeves, but aren't quite ready to announce the tour just yet. That will come in September sometime."
He also promised to release music, saying, "I've been pretty consistent about making records throughout my career. I'll probably keep that pace, which is a [release] about every 12 months or so. I've talked about doing a big-band swing album for years. Maybe I'll get that done. Also, I'm writing more now, so if I have material that I feel is good enough, I'll do a complete record of all of my songs. I found a bunch of old songs not too long ago that I wrote in the '70s and early '80s, and I'm going to go back through those and see if maybe I can do some of those."
Strait also shared a secret to his longevity, confessing that he avoided overexposure and that "I've never let the music business be the only thing in my life. There are other things that I love to do as well… I love to fish, hunt and play golf. I just love to be outdoors, enjoying God's beautiful creation."
Source:
George Strait Covers Billboard, Says 'I've Got a Lot Left in the Tank'