Labs Are America's Top Dog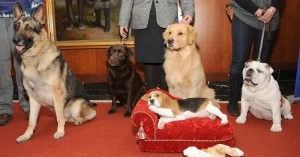 It is not big surprise to anyone who has ever met me, heard me on the radio or walked by me all covered in fur, I am a dog person. If you have ever watched any dog shows or even spent some time at your local dog park, there are a TON of breeds of dog. But, Labrador Retrievers are the top pick for dog owners in the United States. In fact, the Labs have had that spot for 22 years. Second?
German Shepherd. Woof. The rest of the top ten are breeds you probably know and may love. There is the Golden Retriever, Beagle and Bulldog that round out the top five. The cute little Yorkie, Boxer, Poodles Rottweiler and Dachshund bring it to the top ten. I am not so much a breed person, but just an overall dog person. I like most dogs.