Little Big Town vs. Uncle Kracker – The Showdown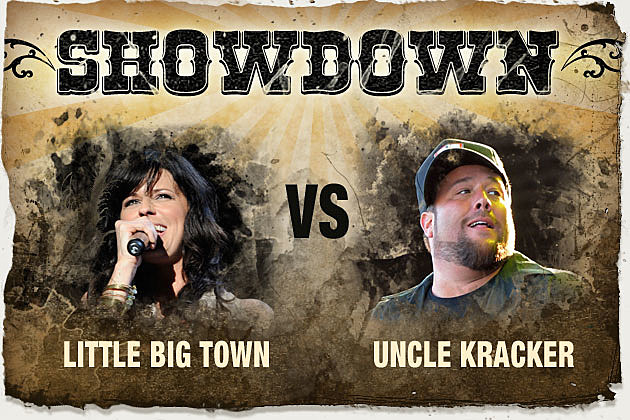 Little Big Town's new song 'Tornado' has bested new singles from two of country music's biggest stars. Today, and tonight on Taste of Country Nights radio, the quartet's single will go up against a man best known for his success in the pop-rock world. Uncle Kracker will need his fans from both country and pop to support 'Nobody's Sad on a Saturday Night' if he wants a show at moving on to round No. 2.Â
Uncle Kracker's newest country single is a familiar feeling for the singer. The good-time jam will get caught in your head after just one listen. 'Tornado' will also sink its musical hooks deep into your subconscious, with a moody story of a woman who won't be wronged any longer.
Listen to clips of both Little Big Town's and Uncle Kracker's songs and vote for your favorite here. You can vote once every hour online, so come back and vote often to be sure your artist wins. Hear the full versions of the songs tonight after 10PM on Taste of Country Nights. Help your favorite song win by placing additional votes at (888) 678-9995. Call as many times as you like! You can listen to the show online through any of the 41 radio stations that carry it. Voting will end tonight at 10:40PM CT.
Listen to a Sample of Little Big Town, 'Tornado'
Audio clip: Adobe Flash Player (version 9 or above) is required to play this audio clip. Download the latest version here. You also need to have JavaScript enabled in your browser.
Listen to a Sample of Uncle Kracker, 'Nobody's Sad on a Saturday Night'
Audio clip: Adobe Flash Player (version 9 or above) is required to play this audio clip. Download the latest version here. You also need to have JavaScript enabled in your browser.
Oops! We could not locate your form.
Showdown Rules: The song with the most votes wins, and the winner goes on to face a new challenger in the next Showdown. Vote as much as once per hour online, and as much as you want by calling (888) 678-9995. If a song wins five days in a row, it will be retired into the Taste of Country Showdown Hall of Fame to allow for new songs to compete. Some songs will be considered for a second Showdown if voter turnout is healthy in a losing effort.
Source:
Little Big Town vs. Uncle Kracker – The Showdown