Sara Evans Debuts 'Slow Me Down' Album Cover and Track Listing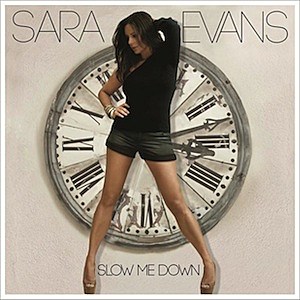 Sara Evans has just unveiled the covert art and track listing for her seventh studio album 'Slow Me Down,' but fans will only want time to speed up so they can get their hands on the record.
Evans has described her newest album as confident and sexy, and that's definitely what the cover art portrays. The 42-year-old singer shows off her toned legs in tight black shorts with a one-shouldered black shirt, high wedges and gold bangles to really glam things up.
Her image is placed over a giant clock, giving a visual to the 'Slow Me Down' theme.
Evans' 11-track track record has no shortage of music aficionados, including Gavin DeGraw, Isaac Slade of the Fray and the iconic Vince Gill. The country songstress co-penned three of the songs with some of country music's top songwriters, including Dave Berg, Karyn Rochelle and Sarah Buxton.
The multi-Platinum-selling artist's last album 'Stronger' debuted three years ago, and her fans have been waiting with baited breath for some new tunes from the prolific songstress. Sara Evans' 'Slow Me Down' has a new release date of March 11 and can be pre-ordered here.
Sara Evans 'Slow Me Down' Track Listing:
1. 'Slow Me Down'
2. 'Not Over You' (feat. Gavin DeGraw)
3. 'Put My Heart Down'
4. 'Can't Stop Loving You' (with Isaac Slade of the Fray)
5. 'You Never Know'
6. 'If I Run'
7. 'Sweet Spot'
8. 'Good Love Is Hard to Find'
9. 'Better Off' (feat. Vince Gill)
10. 'I Gotta Have You'
11. 'Revival'
Next: See the Stunning Sara Evans Without Makeup!
Go Behind the Scenes of Sara Evans' Album
Source:
Sara Evans Debuts 'Slow Me Down' Album Cover and Track Listing