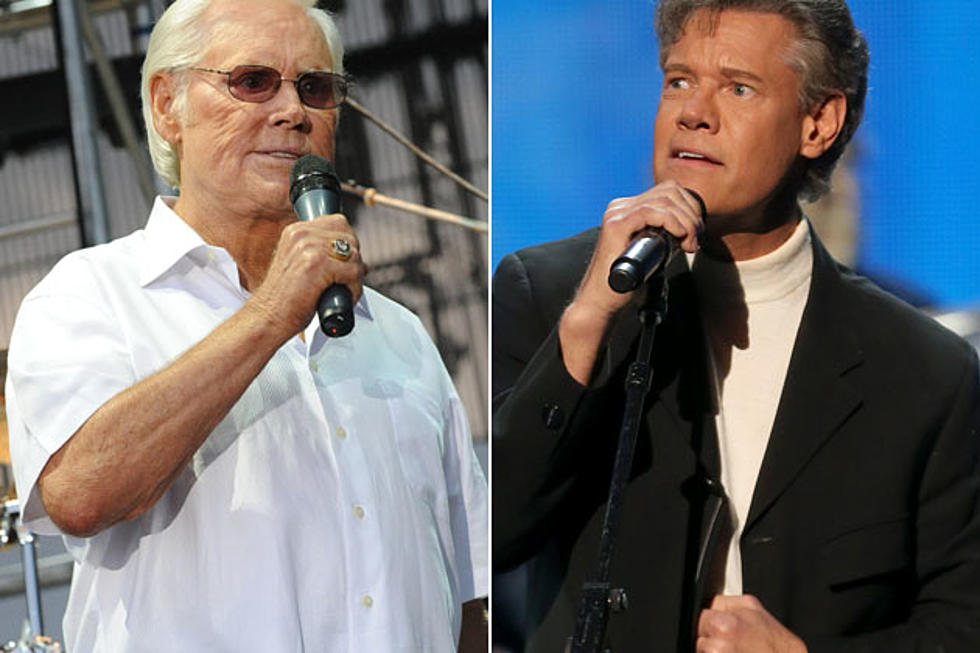 George Jones Enlists Randy Travis, Jamey Johnson and More for Final Farewell Concert
Rick Diamond/Frederick M. Brown, Getty Images
George Jones will cap his 58-year career as one of country music's most revered artists with a final performance on Nov. 22 at Nashville's Bridgestone Arena. Randy Travis, Jamey Johnson, the Charlie Daniels Band and Lorrie Morgan will share the stage with living legend for what's sure to be a historic event.
Jones announced his retirement last year, saying, "It is tough to stop doing what I love, but the time has come." The 'He Stopped Loving Her Today' singer's final 2013 Grand Tour is scheduled to kick off in Lakeland, Fla. on Feb. 7 and will conclude in November with the star-studded show in the heart of Music City.
The name of the tour was taken from the title of Jones' 1974 No. 1 single, 'The Grand Tour,' which also served as the name of the track's accompanying album.
"From a career point of view, I am amazed by my good fortune," Jones said shortly after his 80th birthday. "I've been recording for about 57 years, and I never dreamed that would happen. As they say, I've had hits in five decades so that's pretty good."
Jones admits his own inner struggles have also impacted his life greatly. "From a personal point of view, I'm proud of the fact that I finally kicked my demons and that drink and drugs are no longer a part of me," says the singer. "The last 10 years or so have allowed me to be a better husband, father and friend on a personal level than all the years before when I was so messed up."
George Jones first appeared on the country charts in 1955 with the Top 10 single 'Why Baby Why,' and has amassed 14 No. 1 songs and roughly 168 charting tracks throughout his iconic career. The singer was inducted into the Grand Ole Opry in 1956 and was honored as a living legend with his inclusion in the Country Music Hall of Fame in 1992.
George Jones 2013 Grand Tour Dates:
2/07 – Lakeland, Fla. | Youkey Theater
2/22 – Greenville, Texas | Greenville Memorial Auditorium
2/23 – Forrest City, Ark. | East Arkansas Community College
3/15 – Joliet, Ill. | Realto Square Theater
3/16 – Muncie, Ind. | Emens Auditorium
3/22 – Chattanooga, Tenn. | Memorial Auditorium
3/23 – Evansville, Ind. | The Centre
4/05 – Fairfax, Va. | Patriot Center
4/06 – Knoxville, Tenn. | Knoxville Coliseum
4/19 – Atlanta, Ga. | Fox Theater
4/20 – Salem, Va. | Salem Civic Center
4/27 – Huntsville, Ala. | Mark C. Smith Concert Hall
5/17 – Charlottesville, Va. | John Paul Jones Arena
5/18 – Spartanburg, S.C. | Memorial Auditorium
6/01 – North Tonawanda, N.Y. | Riviera Theater
6/02 – Lancaster, Pa | American Music Theater
8/02 – Columbus, Ohio | Ohio State Fair
8/03 – Watertown, N.Y. | Watertown Fairgrounds Arena
9/13 – Biloxi, Miss. | IP Casino
9/27 – Prior Lake, Minn | Mystic Lake Casino
9/28 – Milwaukee, Wis. | Potawatomi Casino
10/11 – Branson, Miss. | The Mansion Theater
10/25 – Mt. Pleasant, Mich. | Soaring Eagle Casino
10/26 – Pikeville, Ky. | Eastern KY Expo
11/09 – Grant, Okla. | Choctaw Event Center
11/10 – Branson, Miss | The Mansion Theater
11/22 – Nashville, Tenn. | Bridgestone Arena