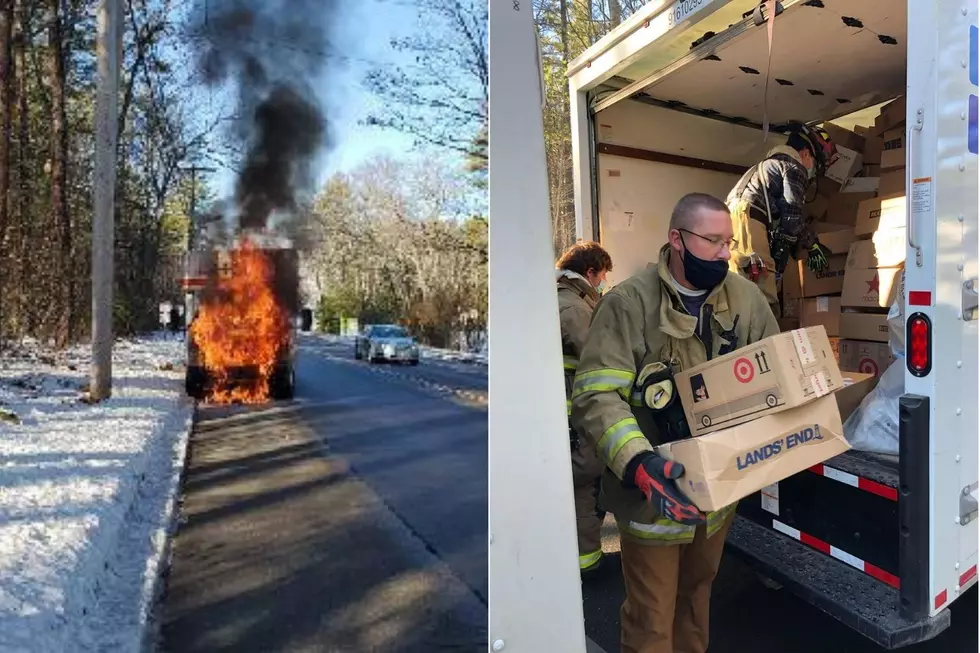 Maine Christmas Miracle: Kennebunk Firefighters Save Holiday Packages from Burning U-Haul
Kennebunk Fire Rescue via Facebook
You'd think that when a vehicle carrying a bunch of holiday packages goes up in flames, that's the end of the story: No presents. No happy ending. Just add this one to the list of 2020 letdowns.
But it looks like a Christmas miracle took place thanks to Kennebunk Fire Rescue.
Firefighters arrived to Fletcher Street in Kennebunk on Thursday to find a U-Haul had caught fire.
The flames appeared to be bursting from the front end of the U-Haul, and by the time the fire was put out, it was charred black as you can see in the photos that Kennebunk Fire Rescue posted on Facebook.
Their hard work and efforts ultimately saved the day, as not one package was destroyed due to the fire, meaning the people receiving those presents won't be without one this year.
The firefighters also helped transfer all the packages to a new delivery truck safe and sound.
The road was closed for a period of time as well but reopened later.
Huge kudos go out to the firefighters for stepping up and bringing some Christmas cheer to what could have very easily been a bah humbug moment.
It's great to see some positive in 2020, especially during this holiday season. Thanks to all the firefighters, police officers, doctors, frontline workers, and everyone out there making a difference whether it's big or small. It's truly appreciated.
Enter your number to get our free mobile app
LOOK: 50 photos of American life in 2020