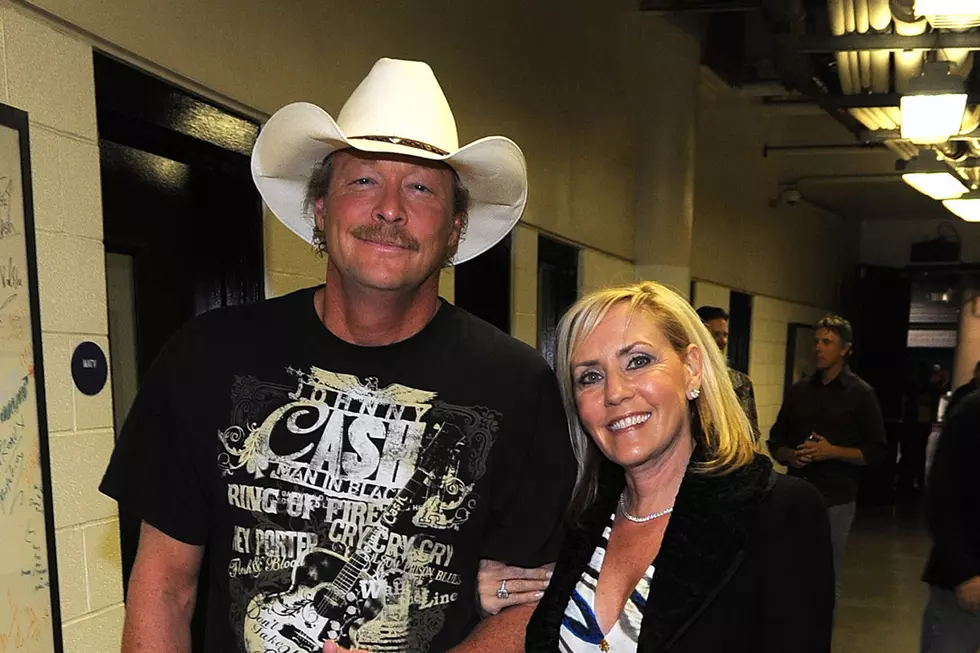 Alan Jackson's Birthday Post for Wife Denise Includes Some Personal Photos
Rick Diamond, Getty Images
Alan Jackson wished his wife, Denise, a public Happy Birthday on social media on Wednesday, April 6, also sharing several photos. A few of them are personal — and he kept his message simple for his bride.
"Happy Birthday, Denise! ❤️," the country singer writes in the caption.
The first photo shows the couple dressed to the nines for a special event, presumably an awards show. Swipe to photo No. 3 in the carousel and you'll see a baby-faced Jackson duo smiling for the camera. The photo looks like it was taken early on in their relationship.
Jackson also shared a casual snap with his wife: The final photo in the series appears to be one take on someone's phone. Denise sits on Jackson's lap and both are holding a glass of wine.
The "Chattahoochee" singer and his high school sweetheart wed in 1979. The pair separated for a few months in 1998, but reconciled. Denise has inspired many of Jackson's songs, like "She Likes It Too" and "Remember When." The couple have three daughters together, Mattie Denise, 31, Alexandra Jane, 28, and Dani Grace, 24.
Earlier this year, Jackson announced a tour that will launch later in 2022. The Last Call: One More for the Road Tour will run June 24 through Oct. 8.
Although it hasn't been confirmed that his will be his farewell tour, a press release mentions that Jackson "will thrill audiences — visiting cities and areas he hasn't in several years for the last time — as fans relive hits like 'Chattahoochee' and 'It's Five O'Clock Somewhere' night-after-night."
In 2021, the Country Music Hall of Famer revealed he had been diagnosed with CMT (Charcot-Marie-Tooth). The chronic neuropathy condition causes nerve deterioration and impacts muscle function, movement and balance.
"I've always admired my heroes like George Jones, Merle Haggard, Loretta Lynn and Charley Pride who just played as much as they wanted to, as long as they could," Jackson states. "I've always thought I'd like to do that, and I'd like to as long as my health will allow. I'll try to do as much as I can, but if I'm comin' your way, come see me."
See Alan Jackson Pictures, Through the Years
Alan Jackson has always been a handsome man and we have the pictures to prove it. See nearly 25 pictures of the singe from the start of his career to today.