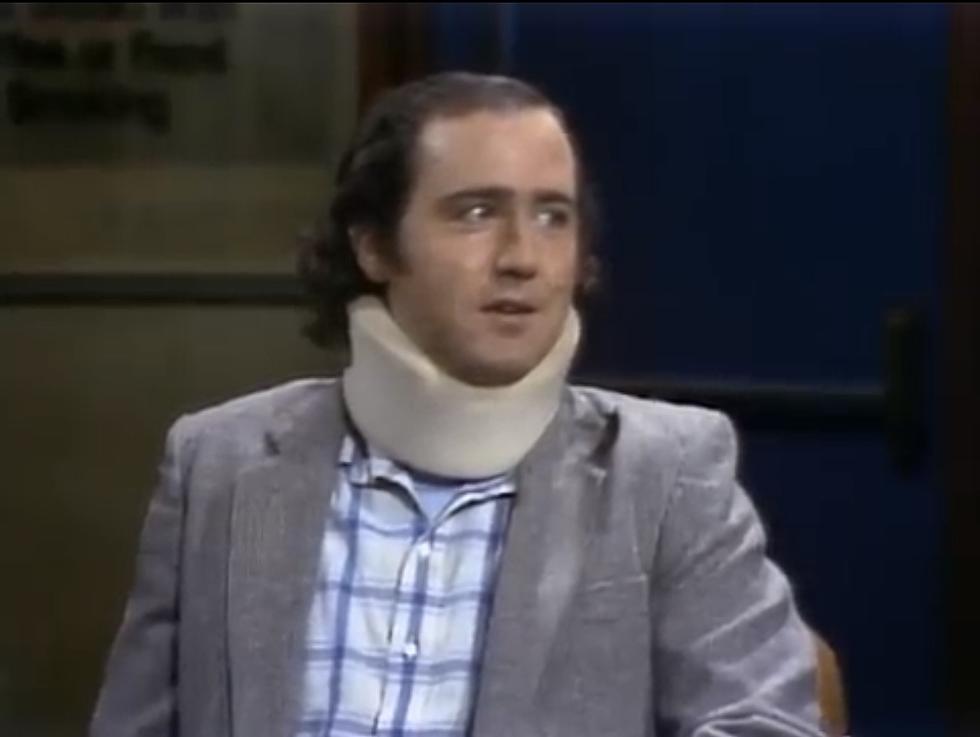 Andy Kaufman Had an Unlikely Carpool Buddy While Attending College in New England
Letterman via YouTube
David Letterman's production company, Worldwide Pants, announced it will produce a documentary on one of his favorite New England college students (and no, I don't mean Boston University's iconic Big Man on Campus, "The Bar").
Instead, the focus is on legendary actor and comedian Andy Kaufman. The film will be coproduced by Seven Bucks Productions, run by Dwayne "The Rock" Johnson (I'd like to see a documentary on whether The Rock's first title belt still rests at the bottom of the Piscataqua River in Dover).
Prior to his appearances on Late Night with David Letterman and in the sitcom Taxi, Kaufman spent two years at Grahm Junior College in Boston. The school bounced around between different areas of the city before landing in Kenmore Square.
According to his 1984 New York Times (alleged) obituary, Kaufman hosted a campus TV show called Uncle Andy's Funhouse before later going on to double as the antagonistic nightclub singer Tony Clifton.
During his time in Boston, Kaufman befriended another would-be television personality. In fact, the two would often carpool down to New York City to perform at various clubs.
In fact, Kaufman's highway pal would later write in his 1996 autobiography about a time he got the jump and played a prank of his own, telling Kaufman (who was in character as Clifton) that he'd seen another comic do his act, down to the Elvis impersonation.
Clifton's sunglasses allegedly lowered, revealing a familiar pair of blue eyes, his voice quivering, "You did??", before being told it was just a joke by none other than Andover native Jay Leno.
Ironically, Leno and Kaufman would go from cruising the Mass Pike and playing hell gigs in the Combat Zone to being perhaps the two most popular guests on Late Night with David Letterman.
Eight Wicked Bizarre Mysteries of Massachusetts
15 Wacky New England Animal Stories from 2023