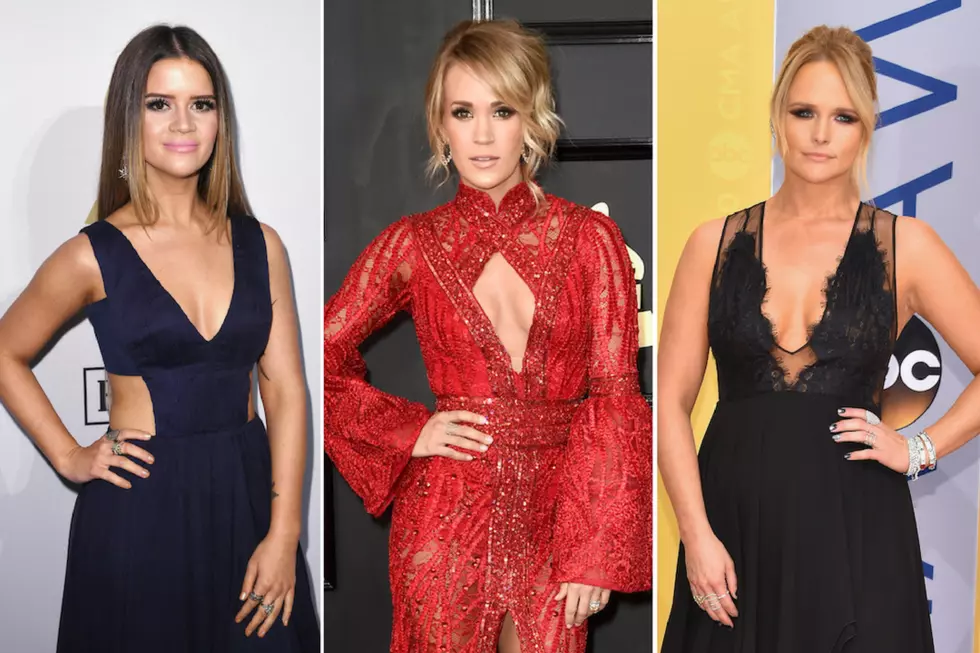 2018 Billboard Year-End Charts Show Just How Tough It Is for Women in Country Music
Kevork Djansezian / Frazer Harrison / Michael Loccisano, Getty Images
The year 2018 was not a good year for country women, and Billboard's year-end charts prove it. On the singles- and songs-related charts, there's not a single solo female country artist in sight until well outside of the Top 10 -- if there's one on the chart at all -- and the albums- and artists-related charts don't look much better.
Let's start with the Country Airplay chart, which is based solely on radio airplay throughout the year. No country woman even appears on the chart until No. 34 -- and then, it's as a featured artist (Miranda Lambert, singing "Drowns the Whiskey" with Jason Aldean). One spot later, at No. 35, Maren Morris is the first solo female country artist to get onto the chart, with her song "Rich."
On the year-end Country Airplay chart, two woman rank higher than Lambert and Morris -- but they're pop artists. Chris Lane's "Take Back Home Girl" featuring Tori Kelly is at No. 21, while Florida Georgia Line and Bebe Rexha's "Meant to Be" is at No. 26. Julia Michaels also appears on the chart; she's featured on Keith Urban's "Coming Home," which lands at No. 36.
The year-end Hot Country Songs chart, which combines radio airplay, sales and streaming, finds its first solo female country artist at No. 39 (Carrie Underwood with "Cry Pretty"), though Sugarland and Swift's "Babe" does come in slightly higher, at No. 35. Rexha (at No. 1 with FGL) and Kelly (at No. 12 with Scott) are the highest-charting women once again on this chart; Lambert and Aldean's collaboration ranks at No. 13, while Kane Brown and Lauren Alaina's "What Ifs" is at No. 37.
Billboard takes its year-end Hot Country Songs rankings out to a Top 100, so a few more women do make the list further down. Morris appears twice, and Underwood is on there again, while Kelsea Ballerini, Carly Pearce, Lindsay Ell and Ashley McBryde all make it on the chart once. Lady A and Urban and Michaels' collaboration are also among the charting songs.
Modern Country Music's Female Trailblazers
Rexha and Florida Georgia Line top both the year-end Country Digital Songs and Country Streaming Songs charts. On the former, Brown and Alaina are at No. 9, while Aldean and Lambert are at No. 17; Underwood is the first solo woman, at No. 22. On the latter chart, Brown and Alaina chart at No. 3, but no solo female artists are anywhere to be found.
Underwood is once again the first solo female artist on the year-end Top Country Artists chart, at No. 13. Morris ranks at No. 24, while Ballerini is at No. 27; Lambert charts at No. 41, and Kacey Musgraves lands at No. 43. Faith Hill rounds out the chart at No. 50. This chart, according to Billboard, is based on "an artist's chart performance on the Hot Country Songs (which includes airplay, sales and streaming data) and Top Country Albums, as well as Boxscore touring revenue, Social 50 chart activity and ringtone sales."
A solo woman (finally!) makes it into the Top 10 on the year-end Country Albums chart -- that would be Underwood, with Cry Pretty. The next solo woman to show up on that chart is Underwood again, with her 2014 greatest hits album (No. 26), then Swift, with Red, an album she released in 2012 (No. 26). Morris' Hero, Musgraves' Golden Hour and Ballerini's Unapologetically -- released in 2016, 2018 and 2017, respectively -- all land in the chart's Top 40.
The topic of women in country music has been a hot one through 2018, as female artists have worked to call out the bias they face at country radio, even while enjoying success in other aspects of their careers (and, in some cases, earning crossover success). However, the situation is not much better in the Americana, folk and bluegrass worlds, as those subgenres' year-end charts show.
2018 in Review: 10 Country and Americana Albums By Women That Should've Hit No. 1