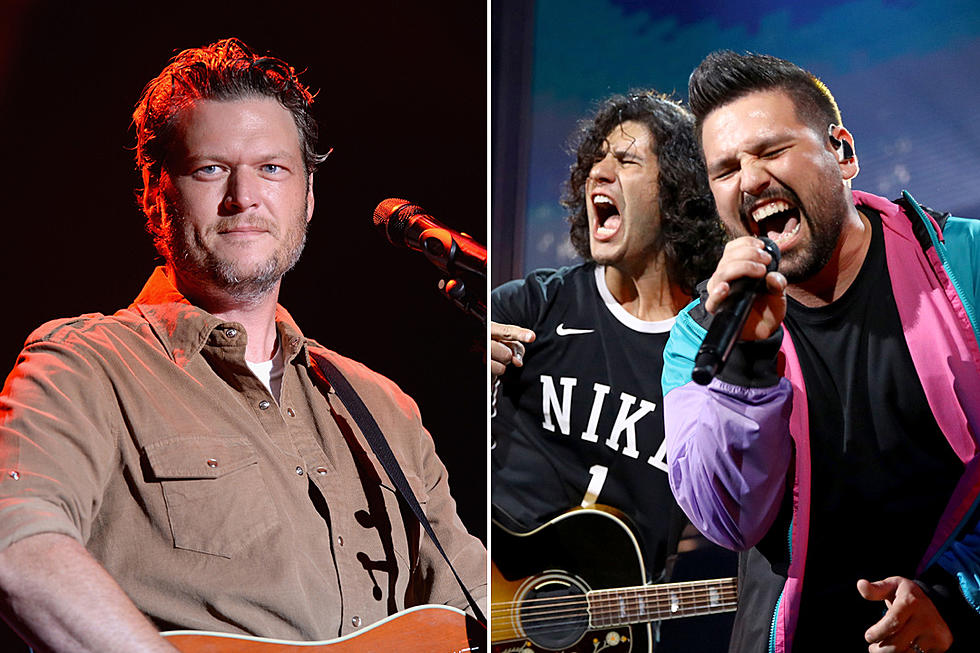 Why Blake Shelton Told Dan + Shay 'I'm Gonna Kick Your Ass' at the 2019 CMA Awards
Stephen Lovekin / Rich Fury, Getty Images
The country superstar went into the awards show on Wednesday night (Nov. 13) with his first CMA nomination since 2015. His career-invigorating No. 1 hit, "God's Country," was up for Single of the Year, facing off against the duo's smash hit, "Speechless," among others.
"They were sitting directly behind me," Shelton said at a press conference on Thursday (Nov. 14), according to People. "And I said, 'Hey, if you guys win this award, I'm gonna kick your ass, because I haven't been nominated for any stuff in, like, a hundred years."
Here Are the Top 5 Moments from the 2019 CMAs
On second thought, Shelton says a star-on-star brawl might be exactly what the awards show needs.
"I think that might have helped with the ratings if they thought there was actually a chance that people were gonna throw down and fight on the CMAs."
Prior to "God's Country," Shelton admits he had started to wonder if his career was beginning the inevitable cooling that eventually comes to every successful artist. He had even started emotionally preparing for that scenario, but when he heard the demo for "God's Country," Shelton got excited about music in a way that he hadn't been for a while. He immediately called his producer to say he wanted to record the song, and they hit the studio within a few days to complete the session.
"I heard the song, and it was almost like an awakening," Shelton told reporters. "It was like it re-energized me. I don't want to be done with this. I want to keep making records, and it just kinda turned everything around for me. And then I'll be damned if it didn't literally turn everything around for me as far as airplay and even being nominated for something again."
Dan + Shay did no go home empty-handed after the 2019 CMA Awards. The pair took home Vocal Duo of the Year at the ceremony.
Country Music Fans Will Love Caylee Hammack!
See Country Stars on the CMA Awards Red Carpet