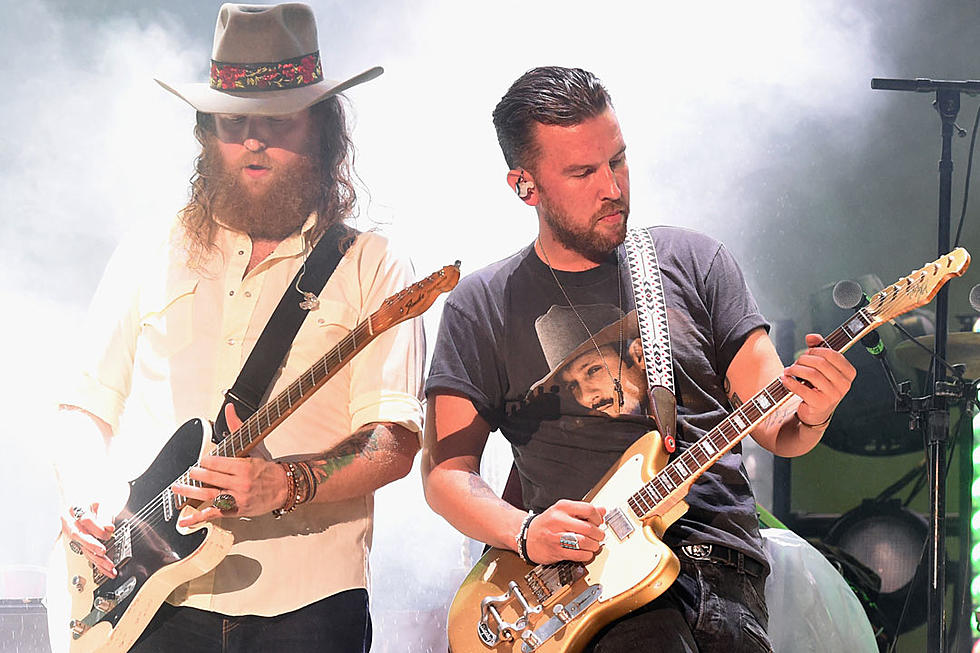 Brothers Osborne Talk Beating Burnout, Bad Gigs and Billie Eilish
Rick Diamond, Getty Images
Brothers Osborne recorded their first live album, Live at the Ryman, back in April during their three-night booking at the famous Nashville venue. They recorded the second and third nights for the album in an effort to put together the best representation of their live show.
"The first night we recorded, you can tell the band is trying to play well, to not make mistakes, and that's fine — but nobody is really giving it their all because we're holding back," TJ Osborne tells Taste of Country. "On night three, everyone just went for it, and that ended up being the take."
A three-night run at the Ryman sure feels like a turnaround for a band that fewer than five years ago struggled to get eyes and ears on their music.
"Early in our career, they were pretty much exclusively bad gigs," TJ says. "And then you get signed to a label and you think, 'This is it, I've made it,' but then you're playing some of the worst gigs you've ever played there, too. You're playing these radio gigs in a pizza hall or a conference room or a McDonald's parking lot and you're just asking yourself, 'How in the hell did I end up here?'"
Nowadays the brothers are fortunate enough to play pretty much only good shows. But that doesn't mean the burnout ends. "We had to take some time off because we let hard work get the best of us," John Osborne admits.
The pair reduced the number of shows they were playing, paying close attention to the mental and physical toll their recent success brings.
"I struggle with it in the sense that a lot of people ask us what we do for fun," TJ says. "This is it. There's a lot of, Go, go, go, go,' and we've achieved more than I ever imagined we would have, but there's always bigger heights. You feel like you haven't achieved it because there's another milestone ahead."
"If I can give any new artist advice, it would be work really hard, but give yourself room to relax — to sleep, to think," John adds. "Otherwise you end up drinking too much to cope with it (not that we're alcoholics). Stop and smell the roses because it will all be over before you know it."
Perhaps more than anything, fame and success have brought the brothers perspective. "One of the things about being successful — it really highlights what truly matters, and a lot of those things are what we've always had," TJ says. "Friends and family."
Brothers Osborne Don't Believe in Staying Quiet
"Having money makes you think you'll be able to relax but you really just end up with more responsibility and more to lose," he continues. "It just adds more pressure. Jim Carrey had a great quote that was basically, 'I wish everyone had the ability to be rich and famous at one point in their life so they could realize it has nothing to do with life at all.'"
A lot of times, he notes, you work so hard to be successful you forget what the point of it all is in the first place. Sometimes, the industry kind of forces you to step back and appreciate. Like on November 11, when Brothers Osborne will claim the ASCAP Vanguard Award at the 57th Annual ASCAP Country Music Awards. The Vanguard award honors songwriters whose work is helping shape the future of music.
"We've done well at radio but our songs aren't super obvious because we're a bit left of center," John says. "For them to recognize us for that, it puts more wind in our sails, validates who we are, and shows you the community in Nashville is behind us and that means everything."
The duo has been fortunate to find a mixed audience, even playing vaunted international rock festivals like Download Fest. They've long since abandoned caring about the country music argument — what "is" or "isn't" country music — in favor of a "come one, come all" attitude.
"I don't listen to country music because it's country music," TJ says. "I just happen to like a lot of country music that comes out."
And what about music outside of country music? Outside of their friends and fellow co-writers, who impresses them?
"We spend so much time listening to music but so little time seeking it out," TJ says, laughing. "A lot of people are saying this, but I think Billie Eilish is one of the last things I've heard that made me think, 'Wow this is incredible.' It's so different. The imagery she uses. It's just really next level."
These Country Artists Are Keeping Traditional Country Alive: