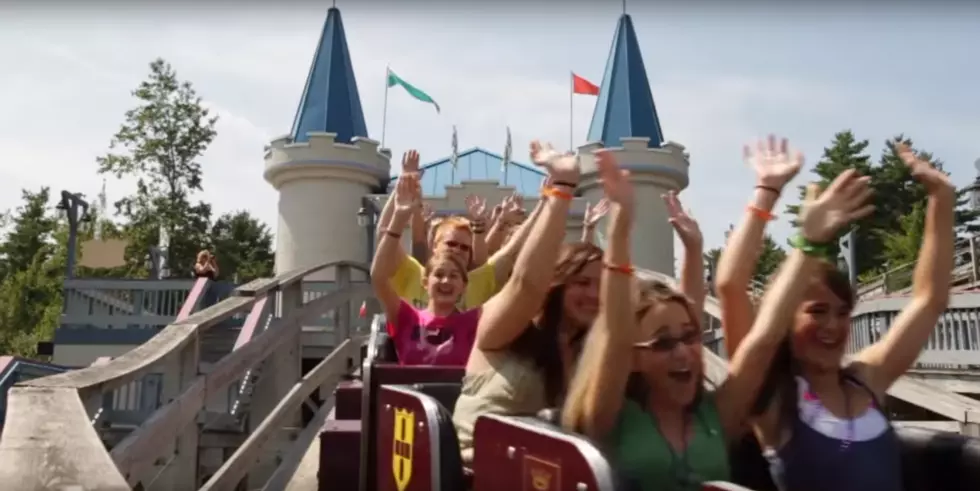 Check It Out! Northern New England Amusement Park Opening Dates!
Funtown Splashtown USA | YouTube
One benefit to living in Maine is that we have a number of great amusement parks to choose from within a reasonable day-trip driving distance. No matter what you're looking for- a water park, big thrills, something for the little ones, or something on the beach- fun isn't very far away! With the long winters, we also appreciate the precious summer days, which also mean we only have a few short months to enjoy these parks.
So, start planning! Here are all the opening dates:
Funtown Splashtown USA
A Maine classic. Technically two parks but c'mon, everyone knows the combo bracelet is the way to go. I'm pretty sure you lose your Maine card if you've never spent a day at Funtown Splashtown USA. Anyone else play "Who Can Spot The Dragon's Descent First?" game on the way into Saco?
Opening Day: Saturday, May 11th
---
Don't count this waterpark out! Aquaboggan has been providing family fun for 40 years and they even have a mini-golf course!
Opening Day: Saturday, June 22nd
---
You couldn't pick a better spot for an amusement park. Located right on Old Orchard Beach you can enjoy time on The Pier, do some shopping in the local gift shops, play in the arcade, and enjoy some awesome rides right by the ocean!

Opening Day: Saturday, May 25th *The arcade is currently open
---
York's Wild Kingdom
Enjoy fantastic rides and see some amazing animals too!
Opening Day: Saturday, May 25th
---
Story Land
The great thing about Story Land is that it's generational. The park opened in the 1950s so grandparents and their kids alike and reminisce about their time there along with the little ones! Anyone else have any awkward family photos from Story Land?
Opening Day: Saturday, May 25th
---
Santa's Village
Forget The North Pole. New Englanders know where Santa's REAL home is, Jefferson New Hampshire! Also opened in the 1950s this is another NH based park with decades of memories for families. Visit Rudolph and sit on Santa's lap, even in July! I still have my letter from Santa, do you?
Opening Day: Saturday, May 25th
---
Canobie Lake Park
It never ceases to amaze me how many people haven't made this trip to Salem, New Hampshire! They have some amazing thrill rides, a ton of carnival and arcade games, an escape room, and some fantastic live shows, including a tribute to Taylor Swift. Located on Canobie Lake this is one of the most beautiful parks in New England.
Opening Day: Saturday, May 4th
---
Six Flags New England
Trust me, this place is worth the drive to Massachusetts. It's the perfect park for thrill seekers! There's plenty to do for younger ones too. Don't forget to check out their waterpark, Hurricane Harbor!
Opening Date: Friday, April 26th
So, which Northern New England park is your favorite? Do you have an all-time favorite ride?