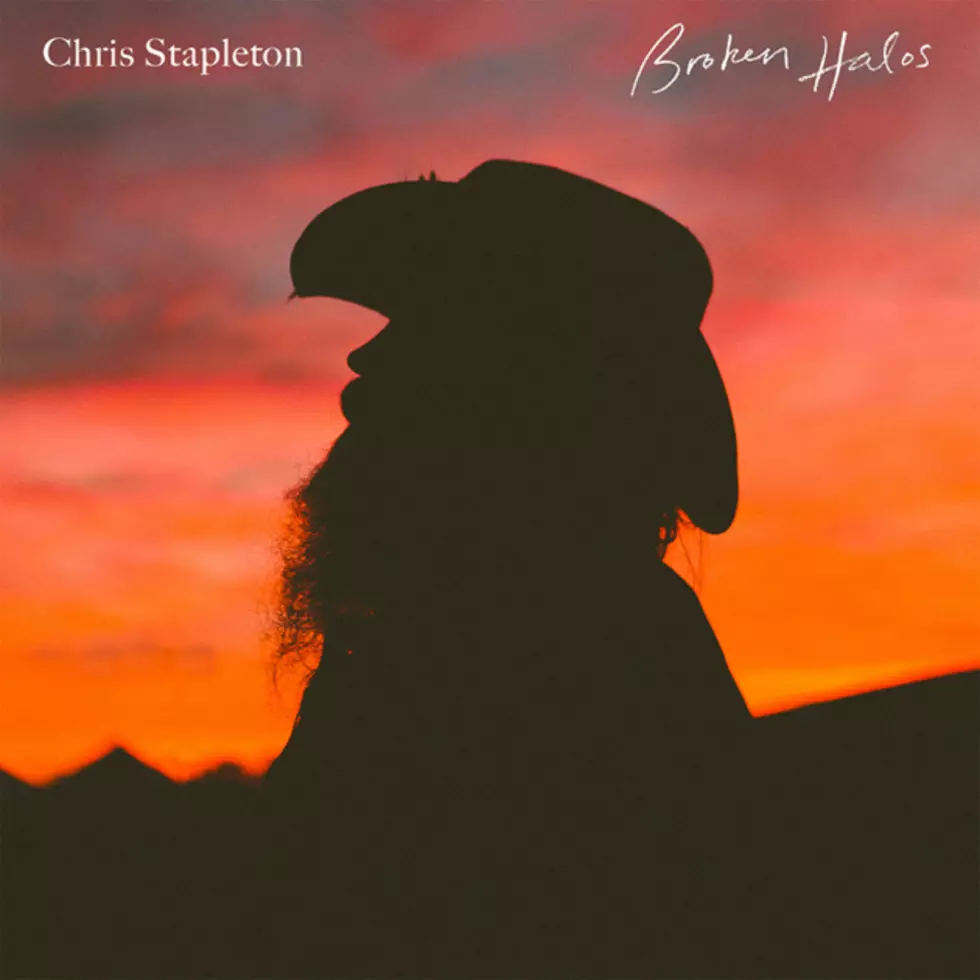 Chris Stapleton, 'Broken Halos' [Listen]
Mercury Nashville
Nobody's going to accuse Chris Stapleton of trying to follow radio trends. The gritty country belter offers up an unvarnished slice of life in "Broken Halos," the latest single off From A Room: Volume 1.
Stapleton's signature raspy, blues-soaked voice and high-octane delivery are abundantly in evidence on "Broken Halos" over a restrained bed track of acoustic guitar, bass and drums that frame the songs as minimally as possible, keeping the focus tightly on the lyrics and Stapleton's scorching performance.
The singer conjures up a mix of better days and bleak times as he sings, "Seen my share of broken halos / Folded wings that used to fly / They've all gone wherever they go / Broken halos that used to shine." His wife Morgane joins her voice with his for some very effective harmony lines that stand out in stark relief against the simplicity of the instrumental arrangement, and while a quick chord change briefly interrupts the verses mid-song, there's no solo to draw the ear away from the central themes.
Stapleton's not casting himself as someone above the listener who's offering answers to life's mysteries in "Broken Halos." He's right down in the trenches with all of us as he sings with the resignation of experience, "Don't go looking for the reasons / Don't go asking Jesus why / We're not meant to know the answers / They belong to the by and by."
The Grammy winner has made more impact as an album artist than he has at country radio precisely because of bold choices like these, which demand that country radio come to him rather than asking how he can meet radio's needs. You can't predict that a song like"Broken Halos" is "going to be the radio single of the summer" or anything remotely resembling what one might normally say of an artist's latest release. But you can say it's a straightforward, hard-hitting and honest choice that will likely stay with country fans long after many bigger commercial hits have faded away.
Did You Know? When Stapleton debuted "Broken Halos" at CRS 2017, he said it was inspired by "people who have passed away before their time." Stapleton recorded it the day after a longtime friend died from pancreatic cancer at 38.
Listen to Chris Stapleton, "Broken Halos"
Chris Stapleton's "Broken Halos" Lyrics:
Seen my share of broken halos / Folded wings that used to fly / They've all gone wherever they go / Broken halos that used to shine
Angels come down from the heavens / Just to help us on our way / Come to teach us, then they leave us / And they find some other soul to save
Seen my share of broken halos / Folded wings that used to fly / They've all gone wherever they go / Broken halos that used to shine / Broken halos that used to shine
Don't go looking for the reasons / Don't go asking Jesus why / We're not meant to know the answers / They belong to the by and by / They belong to the by and by
Seen my share of broken halos / Folded wings that used to fly / They've all gone wherever they go / Broken halos that used to shine / Broken halos that used to shine / Broken halos that used to shine / Broken halos that used to shine
The Most Anticipated New Music of Summer 2017
See All Albums Slated for Release in 2017