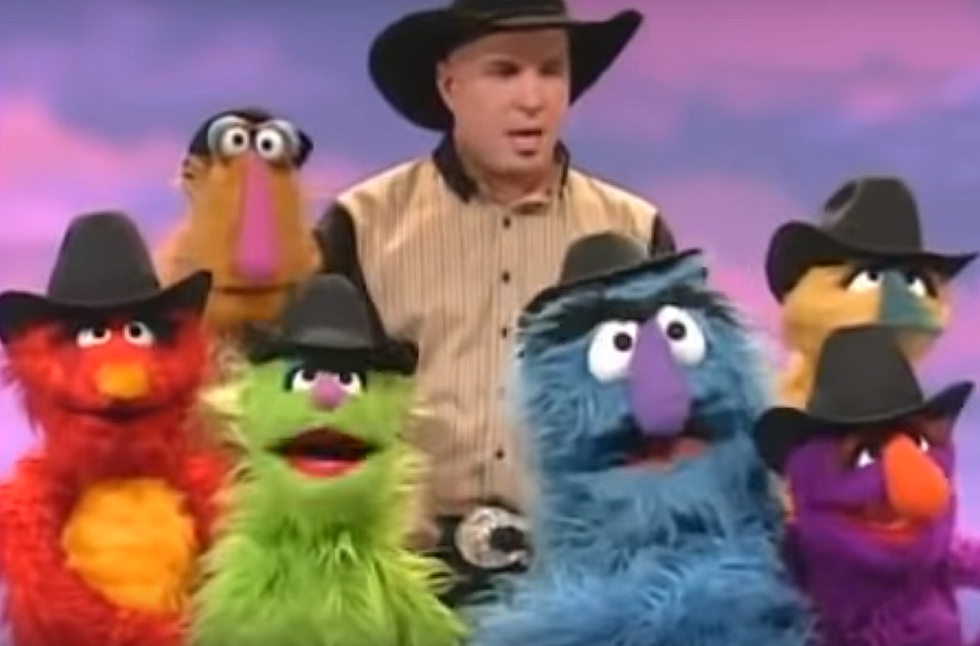 16 Country Stars Who Have Appeared on 'Sesame Street'
YouTube
A Sesame Street appearance is a rite of passage for a celebrity. For 50 years, the beloved children's television show has been inviting actors, musicians and more for visits, merging the real world with one that feels just as real for so many children who grew up watching Big Bird, Elmo and their furry friends.
Over the years, more than a dozen country stars have made appearances on Sesame Street: The Dixie Chicks taught viewers about the benefits of the letter B. Johnny Cash sang with Oscar the Grouch. Thomas Rhett helped the show celebrate its 50th anniversary.
Who else has learned how to get to Sesame Street? Watch all of their performances below!
Brooks has been on Sesame Street twice, but this performance is our favorite of the two because the country star acts as a Muppet tamer of sorts, turning the unruly pack of characters into a harmonious chorus — before they take the lead, that is. Plus, is there anything cuter than fuzzy Muppets in black cowboy hats?

Carpenter's Sesame Street appearance is all about loving yourself. The singer-songwriter, Zoe, Tully and more sing about their best qualities, harmonizing, "Yes, I am thankful every day / And I am not ashamed of sayin' / That I'm really, really, really glad I'm me." We could all use that kind of positivity!

The Man in Black got to Sesame Street three times during his career; he even got to hang with Oscar the Grouch! The two share the story of "Nasty Dan," who sounds like the kind of guy Oscar would befriend: He's "a nasty man" who "ate nails for lunch" and "never took a bath," according to the rumors — that is, until he met Nasty Pearl, who turned his life around (well, sort of). By the end of his song, Cash even wins Oscar over.

'A' may be the first letter of the alphabet, but the Dixie Chicks know a secret: There's no letter better than 'B.' "All we're sayin' is to give Bs a chance," the Chicks sing — and, really, who are we to argue with those harmonies?

Jennings became an honorary "birdkateer" during his Sesame Street appearance. The country icon shares the mic with Big Bird to tell the sad tale of a block tower that Big Bird tried to build just a little too high. As far as country heartbreak tales go, this one's pretty sad — but, good news: It's got a happy ending, as Big Bird rebuilds an even taller tower. The song is a lesson in perseverance, even when others are telling you that you can't do it.

Krauss and her band, Union Station, get an assist from the Count and Sesame Street's chickens for "Sesame Jamboree." As usual, Krauss makes this song sound positively gorgeous, even if it's just an excuse to count to four over and over again.

Count the Count (see what we did there?) among Lynn's biggest fans — and her among his. This duet — one of Lynn's two performances on Sesame Street — is a love song, pledging their allegiance to each other. "If you need a friend before you count to three / I'll be there," they harmonize. "Count on me." 

McBride taps into Elmo's (and her own) imagination during this Sesame Street appearance. Together, two two pretend to be ducks, the wind, airplanes and more. "Imagination's in your noodle ... Imagination's in your brain," they sing.

Tim McGraw and Faith Hill

Sure, sharing is caring and all that, but McGraw and Hill know the real secret: "I know that if I let you take a long, long turn / I'm gonna get to take a long turn too," sings Hill. "The thing I've learned about a turn / Is that a good turn always comes on back to me." And that, kids, is what we call karma.

Paisley's Christmastime Sesame Street performance had the country star and Grover singing "Jingle Bells" together — but, as is Paisley's M.O., with some killer guitar stylings.

With "This Is My Street," Rhett joins the cast of Sesame Street to celebrate the show's 50th anniversary. The country star got to share cookies with Cookie Monster, draw with Big Bird, count with the Count and more in the video for the song.

A young Kristian Bush and Jennifer Nettles — Mr. Kristian and Miss Jennifer, if you're Elmo — who espouse the benefits of music in this performance with Elmo. "Songs, don't know how we get on without them," sings Bush. Adds Elmo, "You can't go wrong / All you need is a song."

"Whenever there's a doubt / That you're wondering about / Ask and find out," sings Travis — or else, you might just end up going for a ride on a buffalo. It's solid advice from Travis' Sesame Street performance, even if it's illustrated by some absurd examples.

Technically, it's only Underwood's voice that stars in this Sesame Street clip — but really, Carrie Underworm looks enough like Underwood that we'll count it. Underwood — er, Underworm? — really does make being a worm sound great, doesn't she?

"You don't have to be from the country to sing country music," Womack tells Elmo, essentially summing up that whole "[Insert Artist Here] isn't country enough!" argument years ago. With that encouragement, Elmo embraces his inner cowboy.

Yearwood's Sesame Street appearance finds the country star down in the dumps over a friend who's gone "far away ... very far." "Like China? ... Like New Jersey?" asks Muppet Harry. "Even farther," responds Yearwood.

The country star slowly admits to Harry — and Baby Bear and Grover, who become a chorus of sorts — that this friend has gone "a really, really, really big number of miles away," and she's sad — because she loves him.