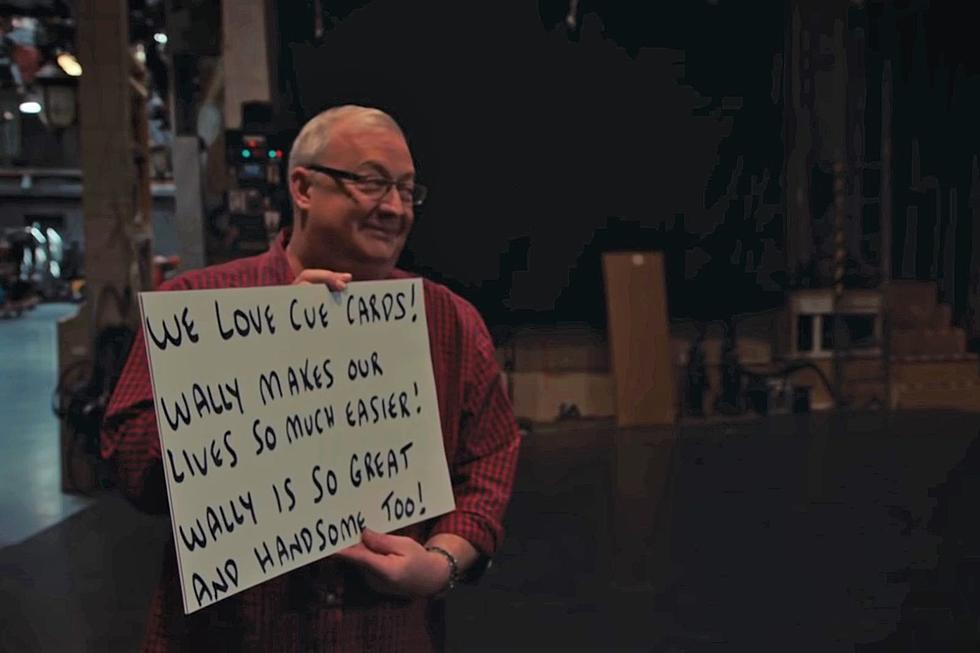 This Massachusetts Man Has Been in Charge of 'SNL' Cue Cards for 30 Years
Wally the Cue Card Guy via YouTube/Facebook
Talk about a behind-the-scenes 'celebrity' that you may know without really realizing it.  His name is Cue Card Wally, and I love learning that Wally Feresten from West Bridgewater, Massachusetts, has been the Saturday Night Live cue card guy for more than 30 years.
I even follow him on Instagram cause it's fun to see all the cool, unique stuff he's involved in.  And let's be honest, who would ever think a cue card guy is an actual job?  Oh, and during his off time, his cool life continues.  He recently helped our beloved former Patriot, Rob Gronkowski, by holding cue cards for him at an event in Miami, Florida.
According to Gothamist, Wally says the trick to being a great cue card person is having good, legible handwriting while being calm under pressure as you stand there knowing celebrities count on you for lines as you flip through the cards.  Sometimes you're on ladders or lying down on the ground with these cue cards, making sure the celeb can read them clearly.  This often entails holding out your arms for long periods of time and in awkward positions. Toss in the 'live" part of SNL, and you better be on top of your game.
By the way, Wally also does the cue cards for Late Night With Seth Meyers, having met Seth during the latter's SNL days.  Can you say networking?  Wally's been known to make cameos on both SNL and Seth Meyers.
According to Gothamist, Wally became the head of the cue card department in 1993 and has a staff of eight, because cue cards are crucial.  Just like Vanna White turning letters for a living, how cool and fun for Wally and his team to have such a creative, once-in-a-lifetime job?
He told the Gothamist that this job requires not just solid penmanship and athleticism, but managing adrenaline and maintaining confidence while honing in on the comedic timing that varies with each celebrity.  Flip too fast or too slow, and a joke could fall flat.  Also, last-minute rewrites are a thing, so he has to be 'on' the entire hour-and-a-half show.
If you want to follow Wally's fun antics, find him on Instagram @cuecardwally_official.  He always has a big smile, and to me, looks like a Wally.
12 Best Sushi Restaurants in New Hampshire
Fresh seafood in New England brings the best sushi restaurants. Here are the favs voted by you.
Gallery Credit: Ginny Rogers
Spruce Up Your Holiday at These 9 Christmas Tree Farms in New Hampshire
Gallery Credit: Megan