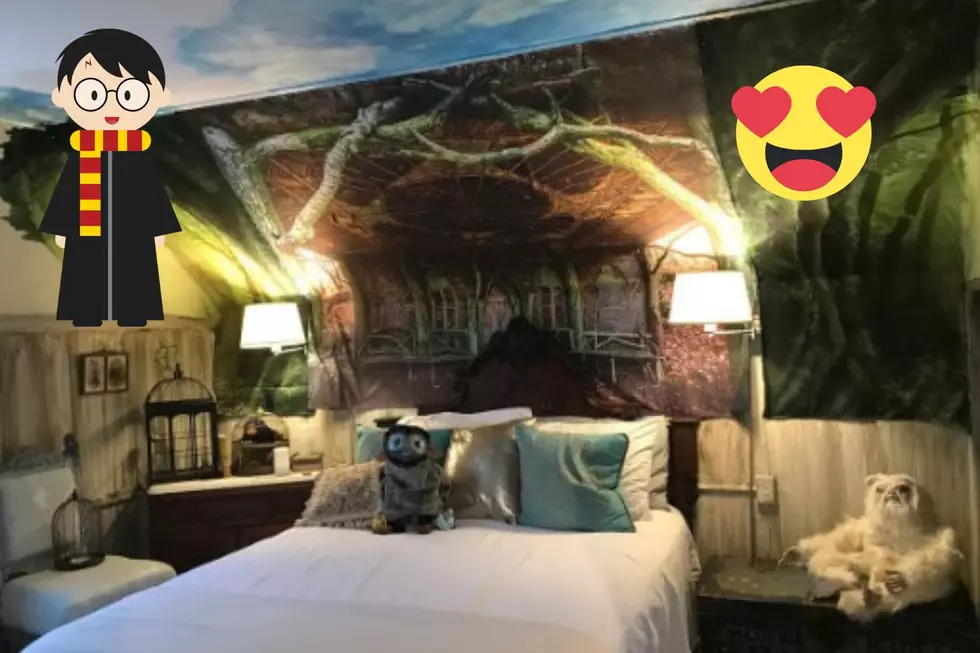 Harry Potter-Themed Airbnb in Massachusetts is an Aspiring Wizard's Dream
Airbnb, Canva
In the interest of being transparent, I would like to come out as someone who is not super into the Harry Potter franchise. I am not against it by any means! I get the appeal! I read the first few books and know the basics; Voldemort, Hagrid, Professor Snape, Quidditch, see? I get it! 10 points for Gryffindor!
When I saw that there is a Harry Potter-themed Airbnb just up the road in Salem, Massachusetts, I got excited on behalf of Harry Potter fans everywhere.
The listing starts out with "Enter the Room filled with Fantastic Beasts via the Red Phonebooth at Kings Cross." According to chowdaheadz.com, the walls are hand-painted, and the room is adorned with detailed touches like potion bottles, ornate bird cages, and creatures handmade by the owner/artist!
Hope is the host, and she does a fantastic job with all of her Airbnb listings. She describes herself as a:
"Children's book author and illustrator. Former toy and game industry development and design director. I love all things Historic and SciFi and of course a Potter Head!"
YEP! That checks out. Let's take a peek inside, shall we?
Harry Potter Themed Airbnb in Massachusetts is an Aspiring Wizard's Dream
This charmingly decorated oasis is a must see/stay for any Potter head.
Gallery Credit: Kira Lew
If you were wondering how the reviews are for the Fantastic Beasts room, it is Potterhead-approved! Reviewers gush about the intricate details and homey touches that make this room just as magical as advertised. This is what Tessa said after her stay in the Harry Potter Fan Room:
"Let me tell you I have traveled the world seeing different Harry Potter related things and Hope's airbnb is a MUST SEE / STAY for any Potterhead. It is absolute magic, created with SO MUCH LOVE. If you're a Harry Potter fan visiting Salem you have to stay here alright TRUST ME. It's perfect, it's Hogwarts in real life. I cannot wait to come back and stay there again!!! It's walking distance to everything and she will take good care of you - JUST BOOK IT ALREADY"
You heard the lady, just book it already!
Here's the full listing:
Speaking of awesome Airbnbs, let's take a peek at this bad boy in Conway, NH...
New Hampshire Airbnb With Heated Pool Makes the Perfect Getaway
Are you looking for an awesome house available for rent in Northern New England? Look no further than this Airbnb listing in North Conway, New Hampshire. It has an indoor pool. pool table, year round firepit and more. Begone, cabin fever!
Gallery Credit: Kira