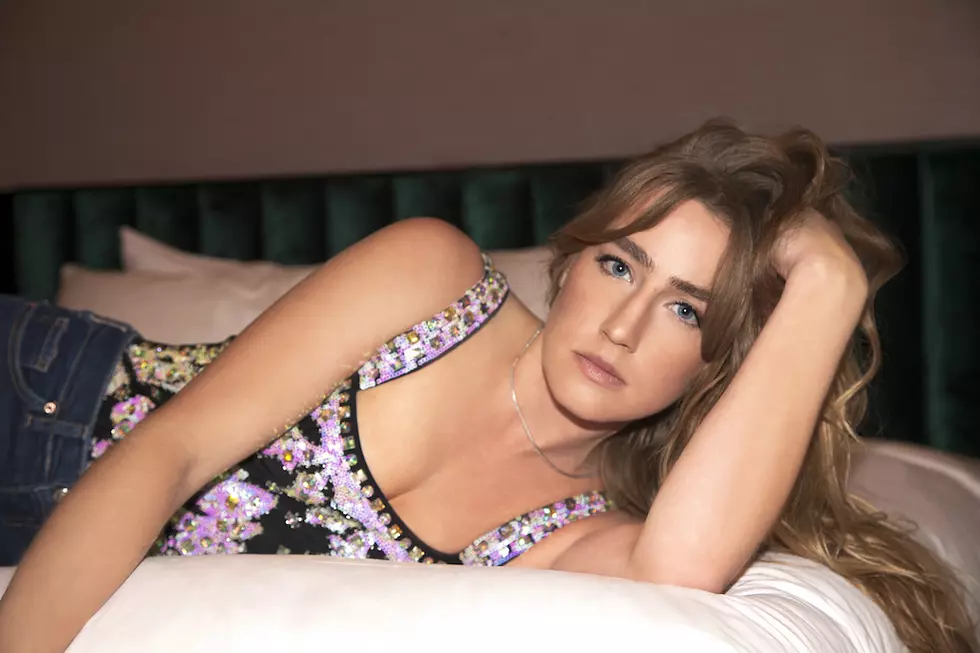 Ingrid Andress' 'More Hearts Than Mine' + 5 More New Songs You Need to Hear
Brooke Hardesty, Courtesy of Warner Music Nashville
This week, country artists were gearing up for summer, with infectious new love songs and dance-ready tracks made for playing live on the road. Others released more reflective new music, however: Some detailed the vulnerability of letting a new love into your life, while some waxed nostalgic about the good old days of growing up. Whatever you're in the mood for, there's sure to be a new country track that's the perfect soundtrack for your weekend. Read on!
Ingrid Andress, "More Hearts Than Mine":
Following the release of her debut major-label single, "Lady Like," Ingrid Andress is sharing a track inspired by real-life memories with her family. "More Hearts Than Mine" opens up with Andress singing about being excited to take someone home to her family. She lets her man known that she isn't trying to scare him, she just wants him to be prepared to go to church on Sunday, be questioned by her sister and go fishing with her dad. The sweet song continues with Andress explaining that if they ever break up, she will be okay, but her man will be breaking more hearts than just hers. Andress' mom, dad, sister and longtime friends will all be devastated if their relationship ends. "More Hearts Than Mine" was written by Andress with Sam Ellis and Derrick Southerland. -- CC
Clare Dunn, "My Love":
In preparation for summertime and all the romance it brings, Clare Dunn has released a country-rock song called "My Love." "'My Love' is about passion," Dunn explains in a press release about the song, "It's about being fearless, and opening yourself up to live and love passionately. It can be intimidating to feel passionately about something, because it can be looked at as a risk. But I always want to encourage people that it's a risk worth taking." Dunn wrote "My Love" with Eric Paslay and Jesse Frasure. -- CC
Sundance Head, "Close Enough to Walk":
Sometimes when you are arguing with your partner, the best way to put an end to the fight is to say something that can be turned into a song -- at least, if you're a musician. According to a press email, that is exactly what happened between Sundance Head and his wife, and that's the story behind his latest single, "Close Enough to Walk." Although it might have been the byproduct of an argument, "Close Enough to Walk" is a true country love song in which Head sings about how much his wife means him. Head co-wrote "Close Enough to Walk" with Bobby Tomberlin. The song appears on Stained Glass and Neon. -- CC
Adam Craig, "If You're Lucky":
Adam Craig winds back the clock to the good old days of growing up in a small town in his newest single, "If You're Lucky," which the country singer shared on Friday (April 5) alongside another new track, "Whatever You're Drinking To." In the track, Craig reflects that life doesn't need to be perfect to be great. In fact, the best way to come of age is to experience all the ups and downs that life has to offer.
"This is the first time that I've really met with publishers and gotten deep into the weeds in the new music process, and it feels really good," Craig explains in a press release. "I'm so excited to share this new music with the world. The last couple of months I have been able to play these on the road, and watching the crowd's reaction has been amazing! They are so fun to perform." "If You're Lucky" was written by Chase McGill and Jessi Alexander. -- CL
Caroline Jones, "Chasin' Me": 
Caroline Jones has shared a self-penned track as her latest release. In the dreamy "Chasin' Me," Jones sings about wanting to keep her guard up when it comes to falling in love. Still, there is one man that is determined to get her to open up. Throughout the song, Jones tells a descriptive story about all the ways in which the man is chasing her and slowly chipping away at her guard. By the end of the tune Jones finally admits that the man is leaving a mark and she might be ready to give love a chance. "Chasin' Me" will head to radio on April 8. The song was produced by Jones alongside Ric Wake. --CC
Levi Hummon, "Night Lights":
After debuting his new song, "Night Lights" at the Grand Ole Opry during a March 29 performance, Levi Hummon says he can't wait to keep the bubbly, dance-ready track rolling through the summer as he gears up to head out on tour with Hunter Hayes.
"I wanted to have some new music for the fans, and 'Night Lights' felt like the perfect song. I'm looking forward to performing and seeing everyone on the road, and continuing to release new music this year!" the country up-and-comer related in a press release. Hummon co-penned the track with Jimmy Robbins and Trannie Anderson. -- CL