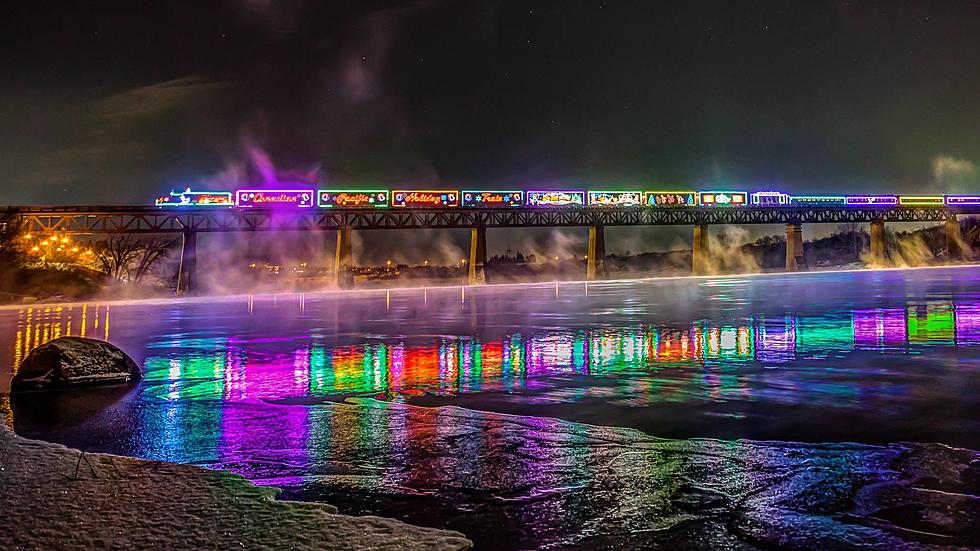 Spectacular Holiday Train Makes Three Stops in Northern Maine
CPKC Holiday Train Facebook
This train should not be missed!
The 2023 CPKC Holiday Train tours Canada and the United States starting November 20 through December 19. This is only their second year coming to Maine. They will be here on Tuesday, November 21.
First of all, what's remarkable about this train is that it's GORGEOUS! Secondly, during their stops, they have free concerts from one of the brightly decorated train cars. Then, the best part is that CPKC donates to local food shelters. Although the concerts are free, you are encouraged to make a donation.
Where in Maine can I see the train?
Since 1999, the CPKC Holiday Train has raised more than $22.5 million and over five million pounds of food for community food banks across North America. That's so cool! They are coming to Northern Maine for three stops on one day, November 21.
Hermon, Maine - 11/21/23 - 11:30 am:  Coldbrook Road railway crossing between Autocar Lane and Dave's Way
Brownville, Maine - 11/21/23 - 5:15 pm: CPKC railyard, 1586 Main Road adjacent to CPKC parking lot      
Jackman, Maine - 11/21/23 - 9:30 pm:   CPKC railyard, 4 Walton Street adjacent to Rancourt Logistics
Sure, it might be a hike up into parts of Maine you may not see all the time, but that makes it even better. I would say it would be well worth the trip!
This is the 25th anniversary of the CPKC Holiday train, and only the second time it's stopped through Maine. We're pretty lucky to have this train share its dedication to helping food pantries! Find the schedule and the artists that will be entertaining us right here!
LOOK: 25 over-the-top Christmas displays from across America
To help get everyone in the mood for the upcoming holiday season,
Stacker
compiled a list of some of the most over-the-top Christmas displays across America.
Gallery Credit: Annalise Mantz & Madison Troyer
LOOK: 50 cozy towns to visit this winter
Stacker
created a list of 50 cozy American towns to visit each winter. Towns were selected based on visitor opinions, ratings from nationwide publications, and tourist attractions.
Gallery Credit: Laura Ratliff