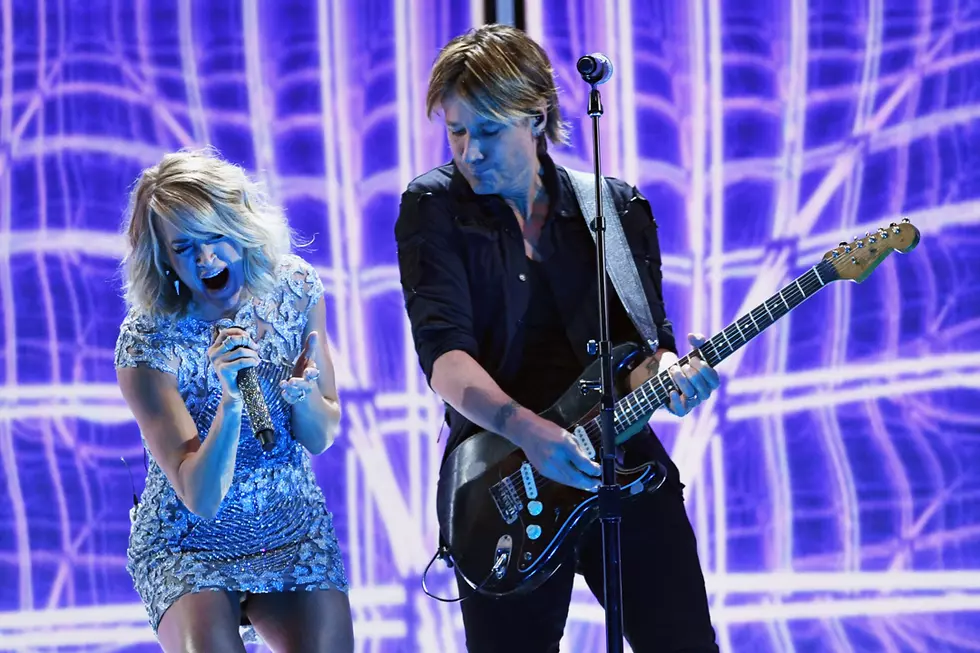 Keith Urban, Carrie Underwood Stun With 'The Fighter' at 2017 Grammy Awards
Kevin Winter, Getty Images
Keith Urban and Carrie Underwood made the televised debut of their new single "The Fighter" on Sunday (Feb. 12) at the 59th Annual Grammy Awards on CBS.
John Travolta introduced the performance and called the country singers "the most dynamic duo since Danny and Sandy" before the camera panned to Urban mid-stage at the microphone. Dressed all in black, Urban riffed on guitar with a futuristic white backdrop.
Moments later, Underwood joined in, donned in a skin tight silver short dress as her vocals soared along with Urban's guitar shredding. Electronic beats transformed the country duo from the Grammy stage to a club setting as Underwood danced along during Urban's solos.
"The Fighter" included powerhouse vocals from Underwood while Urban assisted on guitar. A performance that was hard not to dance along to, the friends ended the Grammy performance with a big hug.
Sunday marked the first televised performance of "The Fighter" by Urban and Underwood. "The Fighter" is their duet featured on Urban's Grammy-nominated Ripcord album.
"It comes from a very real place," Urban said of the song in a press release. "It's a song about helping to heal and protect someone you love. It's a song about reassurance that you'll always be there to take the blows the world can throw. Carrie and I had sung together before and I thought our voices blended really well -- so she was unquestionably the right choice. It was such a relief that she wanted to do it."
See More Photos From the Grammy Red Carpet
Watch the Top 5 Moments From the 2017 Grammy Awards