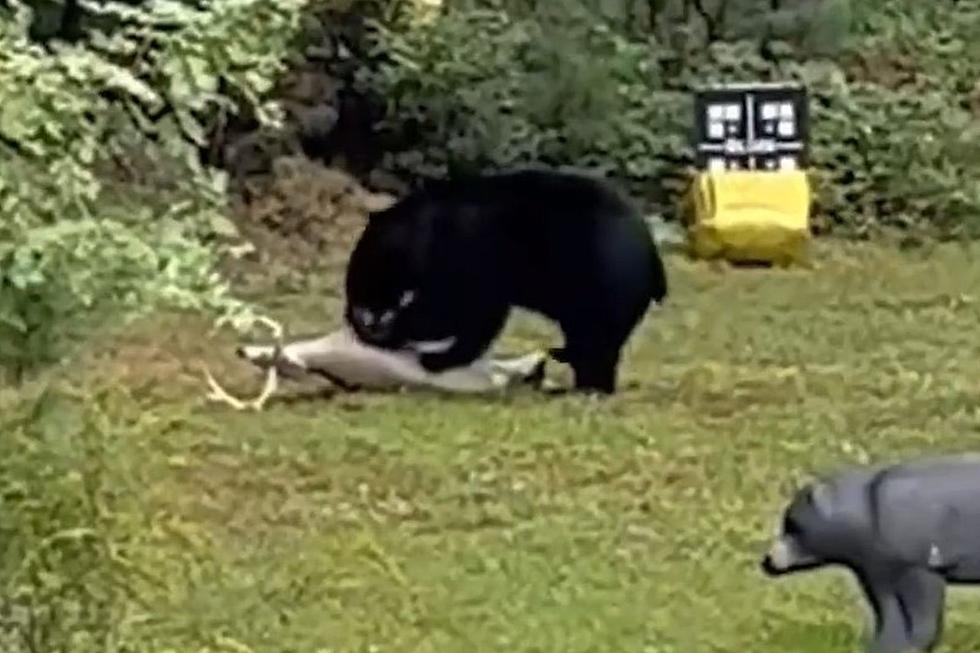 Laugh-Out-Loud Video of a Bear Hunting a Fake Lawn Ornament Deer in Massachusetts
Boston 25 News Instagram Video Screen Shot
Seriously, this is so adorable, and makes me smile and laugh so much.  I mean, the chances of catching this fuzzy bear on video as he or she hunts, plays with, or attacks this fake deer lawn ornament is priceless.  I think the bear is playing with it, because it clearly knows it's not a real deer.
According to Boston 25 News, this happened over in East Bridgewater on the South Shore of Boston, Massachusetts, at a home clearly surrounded by woods and adjacent to a dense forest.  There's even a fake bear lawn ornament just a few feet from the fake deer, but the bear completely ignores it.
Anyway, this black bear was clearly on the prowl, and probably looking for food when it eventually came upon this backyard.  In the video posted below, you can see it all play out, with the bear sniffing and investigating the deer statue before it starts roughhousing with it like a dog with a toy.
Isn't this so fun and comical?  I know you're watching it just as much as I did, witnessing this bear find the toy after he or she inched its way up to the deer, then knocking it over and eventually dragging it into the nearby woods.  It truly reminds me of my dog playing with a toy, which makes this even more adorable, since bears most likely don't have toys in their den.
LOOK: 30 Largest Exports from Maine Revealed
Check out the 30 largest exports from the state in 2022.
Gallery Credit: Stacker
Photos: Masked Rockers With + Without Their Masks
Have you ever wondered what your favorite masked rock star looks like out of costume? Whether it's makeup, prosthetics or full head coverings, several rock and metal artists employ masks that hide their true identity. Well, here is a revealing list of several rock stars who wear masks or face-obscuring makeup onstage — with one photo showing them masked, and another pic without their getup.
Gallery Credit: Philip Trapp