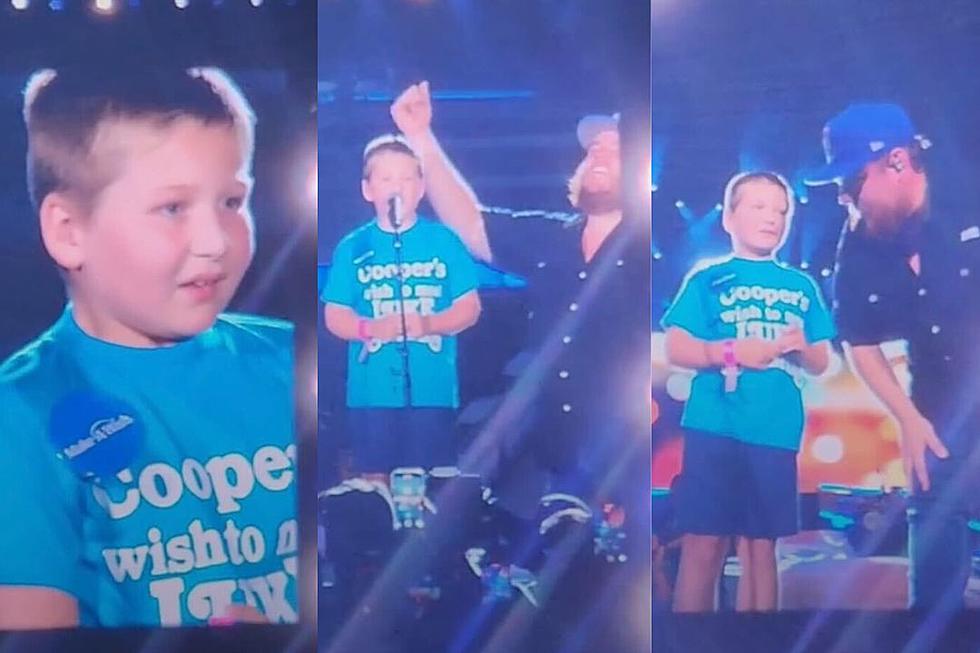 Luke Combs Brings Young Cancer Survivor On Stage To Sing 'Fast Car' [WATCH]
@kaylalynch87, TikTok
Of course, Luke Combs is one of the most talented stars in the country genre today --  but fans also love him for his massive heart, and the singer showed that heart onstage over the weekend with a young fan named Cooper.
Cooper -- a young boy who survived cancer -- is a huge fan of Combs' music, and his biggest wish was to meet his favorite star. When he heard that, Combs brought Cooper up to the stage at his show in Foxborough, Massachusetts on Saturday (June 22). He told the crowd Cooper came all the way to sing his favorite song.
Luke then removed his guitar strap, put down his guitar and bent down to get eye level with the boy whose shirt read, "Cooper's Wish To Meet Luke Combs." Then, Combs gets to one knee and the chorus begins, and they both sing it together. It was an amazing moment that would bring most to tears to witness in person.
At one point in the chorus, Combs stops singing and starts to instruct the crowd to cheer on Cooper as he picked off where Combs left off, and sung to the sold out crowd all by himself. The crowd, as you can imagine, erupted with cheer and support for the young boy as his dream was for sure coming true right in front of their eyes.
Combs then high fives Cooper and gives him a huge hug. It's very clear to see that Cooper is touched by this unbelievable moment, looking shocked and amazed to be standing next to his idol  in front of a crowd of thousands.
The crowd then starts chanting, "Cooper, Cooper Cooper," and it was a moment that brought the whole audience in attendance to their feet, while bringing some to tears as well.
Luke Combs is on his 2023 World Tour with shows scheduled all the way through mid-October.
Pictures: Luke Combs, Wife Nicole Walk the 2023 ACM Awards Red Carpet
Luke Combs' wife Nicole Hocking is
pregnant
with the couple's second child and baby boy made his red carpet debut at the 2023 ACM Awards on Thursday (May 11) in Frisco, Texas. See pictures of the country couple on the red carpet.
Top 20 Luke Combs Songs That Prove 'Em All Wrong
Check out Luke Combs' best songs, and the songs that changed his life when so many thought he wasn't good enough to be a country star.
9 Country Stars Who Grew Up Rich
The son of a rock star, the daughter of a famous actor, a son of a car dealer and two wealth managers' kids are among the country artists listed below. These nine country stars grew up rich, but that doesn't mean they didn't work hard to get where they are today.