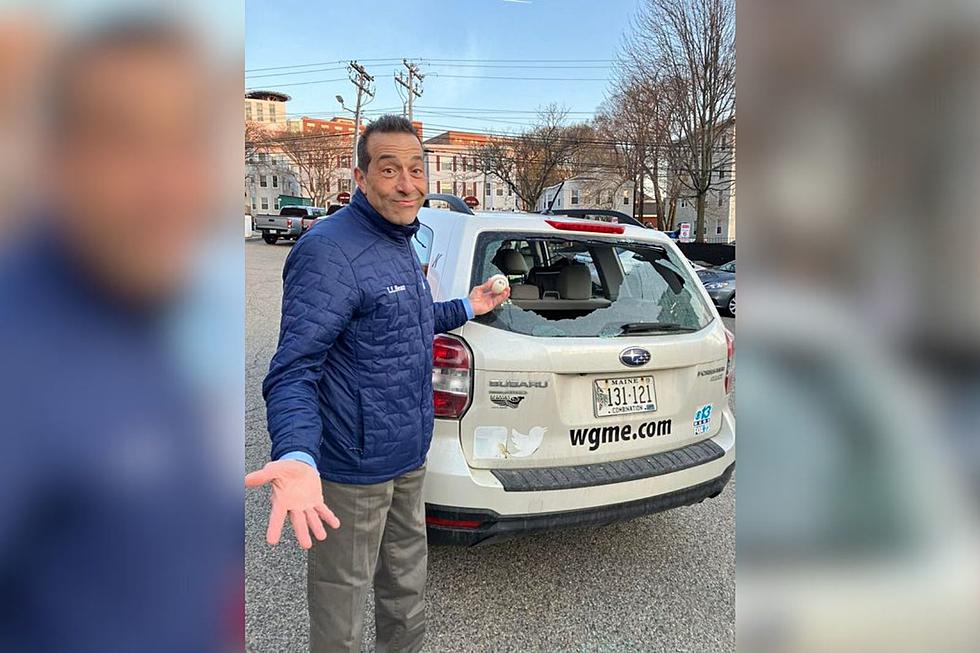 Maine News Reporter Has Horrible Luck at Portland Sea Dogs Game
Dave Eid via Facebook
If you've gone to any baseball game -- Boston Red Sox, Portland Sea Dogs, any game of any team, really -- odds are you've had a slight dream of either catching a foul ball or a home run ball.
And while some of those foul ball and home run ball catches are impressive -- either a younger fan flashing some skills with their glove or fans barehand catching a speeding ball effortlessly -- there are plenty of videos floating around of balls being caught with beer.
There are also plenty of stories of foul balls and home run balls accidentally causing destruction, clearing walls like the Green Monster, broadcast booths, or foul line fences and finding a home inside someone's vehicle.
And that's exactly what happened to WGME reporter Dave Eid in one of the most unsuspected and unlucky ways.
Over the weekend, while Dave was getting ready to leave Hadlock Field after covering a part of the Friday night Sea Dogs game against the Reading Fightin Phils (a game that we don't need to talk about considering how it went), he was met with a massive surprise as he stepped closer and closer to the WGME news van.
Oops.
And, even adding a bit of insult to injury, it wasn't even a home run ball. Dave said it was a shanked foul ball that clearly shattered the rear windshield of the WGME Subaru.
The irony? Responding to commenting fans, it was the timing.
I was 5 seconds away from leaving.
To Dave's credit, he had a great attitude about it. When one commenter suggested he better call Portland Glass...
I was thinking the same thing!
(Hilariously, further in the comments section, the Portland Glass Facebook page commented, "Uh oh! Better call us!")
The story does have a really cool ending, though. At some point, Dave took the foul ball from the back of the WGME shattered news van and found a lucky fan in the stands to flip the ball to. Because, as Grace Sanborn commented with a picture of a young boy holding a baseball said,
Conner says, 'Thanks for the ball Dave!'

 
What a class act.
Top 10 Most Stolen Vehicles in New Hampshire, Maine, and Massachusetts
Is your vehicle the one car thieves want the most? Check out the list for MA, ME, and NH.
See the Must-Drive Roads in Every State