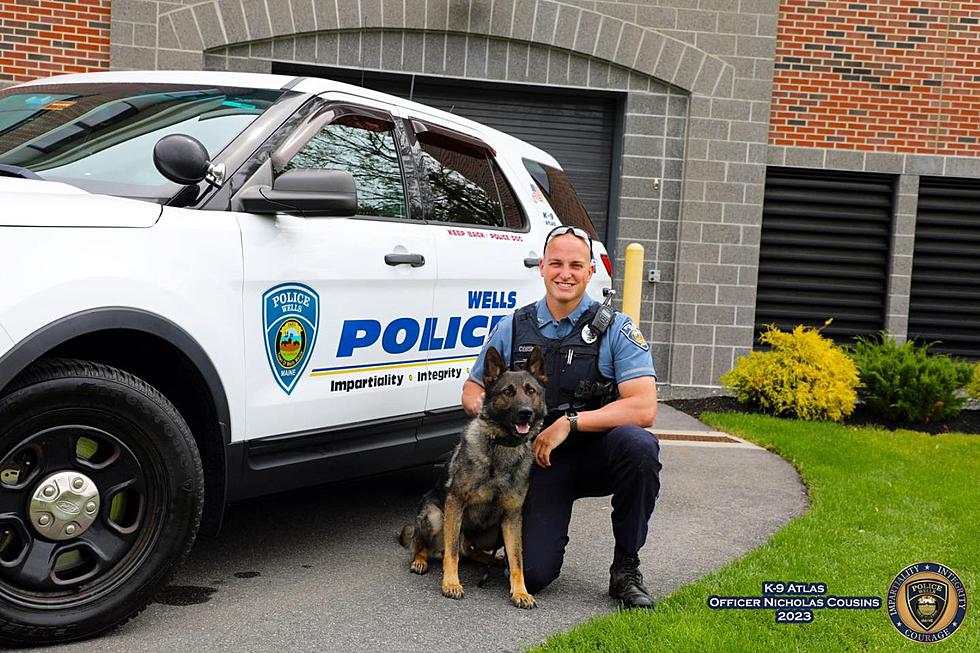 Meet K9 Atlas: This Handsome Dog is the Newest Member of the Wells, Maine, Police Department
Wells Police via Facebook
This is a warning to all the criminals and hoodlums in Southern Maine. There's a new officer in town, and he's ready to take a bite out of crime. He's also extremely cute, too.
Meet Atlas the crime dog. What a perfect name for a police dog. There's nothing like invoking the Greek Gods when it comes to naming a dog, especially one with such an important job. Plus, it's just a great name in general.
Atlas will be joining the Wells Police Department. This German Shepard originally hails from the Netherlands. He has already had his initial police training in Tennessee before the Wells Police Department brought him on. Atlas will continue his training with his new partner Officer Cousins. Atlas will also be living with Officer Cousins and his family. Not a bad deal at all for the new recruit.
Atlas becomes the second active K9 unit for the Wells Police Department. He joins Bacchus, an officer that has already made a positive impact on the community. The Wells Police Department has had a long successful line of K9 units, so Atlas is in very good hands.
According to the post, Atlas will continue his training in New Hampshire where he will work on narcotics detection, along with his regular patrol duties. The goal is for Atlas to be cross-trained and ready for whatever may come his and Officer Cousins' way.
Here's wishing Atlas a wonderful career in the field helping to protect the good people of Wells. I'm sure he and Officer Cousins are going to be quite popular in that neck of the woods.
The 10 Safest Places in Maine to Live Right Now
Breaking down stats relating to violent and property crime, here are the 10 places in Maine that are the safest to call home right now
according to SafeWise.com
.
Wanna Buy a Lighthouse on a Lake in Maine?
You could be the coolest person you know.