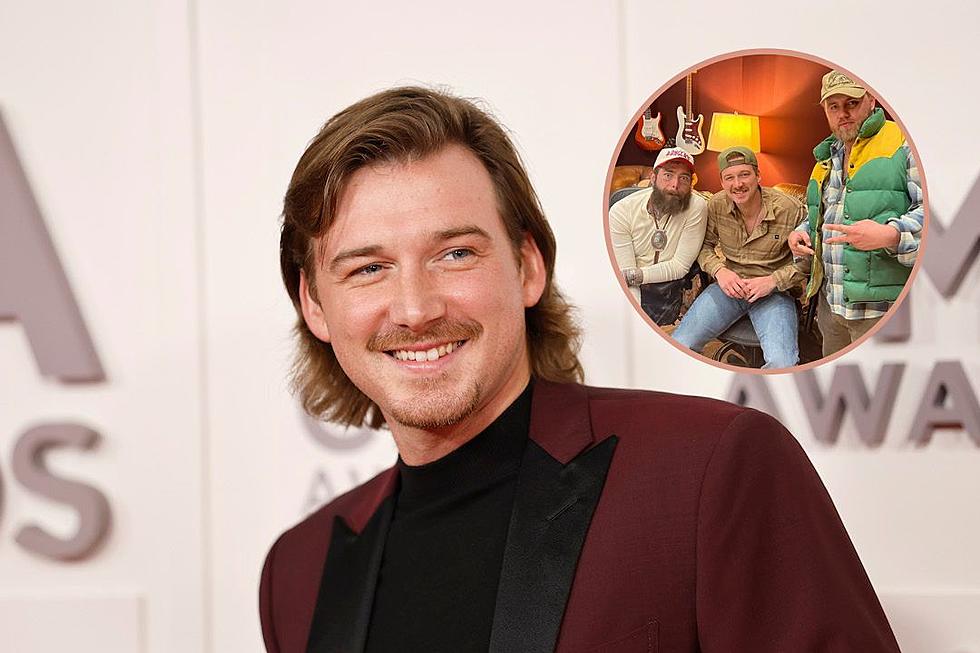 Post Malone Pops Up in the Studio With Morgan Wallen, Ernest
Jason Kempin, Getty Images/Instagram
Could Morgan Wallen and Ernest be cooking up something with country-curious rapper Post Malone? A new social media post from Ernest sure makes it seem that way.
On Sunday (Nov. 5), Ernest shared a photo of the three stars together in a building that looks like a studio. The three men pose together against a backdrop of guitars hung on the wall, with Post and Wallen sitting in office chairs and Ernest standing next to them. "Yabbadabbadoooo," Ernest cryptically captioned his post.
What could it all mean? Well, there are a few possible clues. It makes sense that Post would be in Nashville, since he's set to perform with Wallen at the 2023 CMA Awards show next Wednesday (Nov. 8.) But so far at least, Ernest hasn't been announced as part of that lineup -- Wallen and Post are scheduled to perform a medley of country classics with Hardy.
Of course, Wallen frequently headlines bills that also feature Hardy and Ernest. They're off-stage buddies, and back in February, Ernest told Taste of Country that the three of them inspire each other as songwriters, too. It wouldn't be a huge surprise if Ernest was planning to join Hardy and Wallen's CMAs performance -- so maybe the gang was simply rehearsing or getting together in preparation for the show.
On the other hand, it's also possible that something more could be in the works. Post Malone has dipped his toes into the genre a couple of times: He once covered Brad Paisley's "I'm Gonna Miss Her" so compellingly that Paisley temporarily changed his social media bio to "I write songs for Post Malone."
The rapper has also suggested that he'd like to venture into the genre for a full album-length project.
"To be honest, there's nothing stopping me from taking a camera or setting up in my studio in Utah and just recording a country album [to put] on YouTube," he said in an interview for SiriusXM's The Howard Stern Show. "I'm allowed to do that, I'm a human being."
Whether the three artists' hang session was CMA prep or something yet-to-be-announced, one thing's for sure: This trio sure did look comfortable together. The 2023 CMA Awards will air live from Nashville's Bridgestone Arena on Wednesday (Nov. 8) on ABC. Luke Bryan and Peyton Manning will co-host the show.
Country Stars Walk the Red Carpet at the 2022 CMA Awards
Country stars flocked to Nashville on Wednesday, Nov. 9 for the 2022 CMA Awards. The artists also brought their best looks to the red carpet.
Carrie Underwood
brought the drama with a long blue gown, top-nominated
Lainey Wilson
opted for a velvet version of her classic bell bottoms and hosts
Luke Bryan
and Peyton Manning looked snazzy in suits. Here are some of best dressed, and biggest stars, that graced the CMA Awards red carpet.
Gallery Credit: Sterling Whitaker