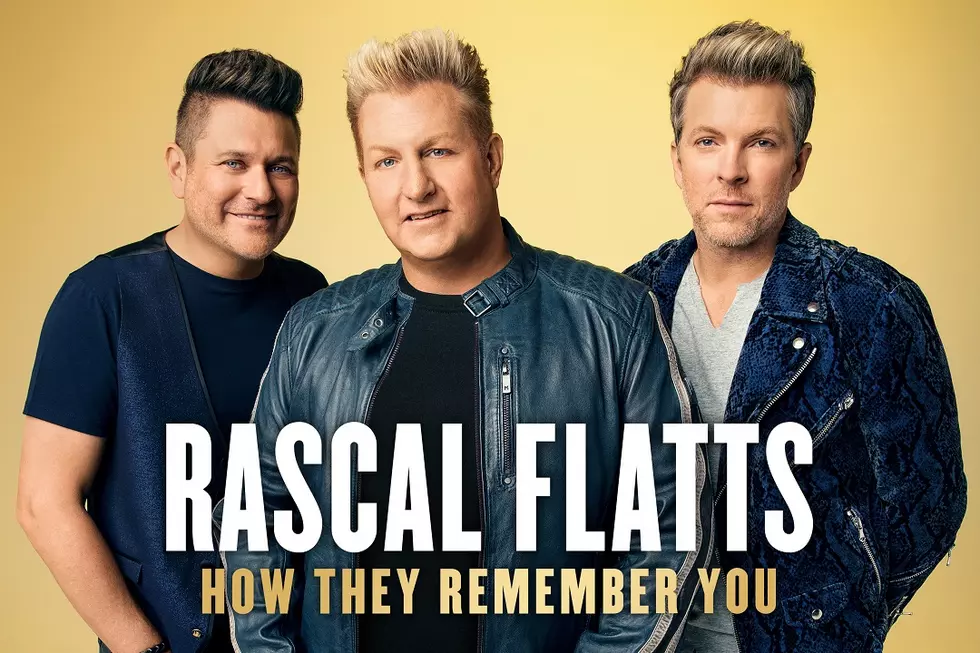 Rascal Flatts Sum Up 20 Years Together With 'How They Remember You' EP
BMLG
With their retirement from life in the music industry as a trio looming at the end of 2020, Rascal Flatts received a phone call from their label head, Scott Borchetta. In Big Machine's archives were a number of old recordings, in various states of completion.
Together with two newly recorded tracks -- the Flatts' recent single "How They Remember You" and a cover of Kenny Rogers' "Through the Years" -- five of those formerly unheard songs now see the light of day on Rascal Flatts' How They Remember You EP. Out Friday (July 31), the band calls it a "piecemealed-together project" that "hearken[s] back to the good old days" of their superstar career.
"There was no method to the madness of picking these songs," Jay DeMarcus told The Boot and other media members during a recent virtual roundtable. "The songs have a cohesiveness to them, but that just happened by happy accident ... [because] we've just always been driven by message, in the song and in the music."
Rascal Flatts burst into country music in 2000 with their No. 3 debut single, "Prayin' for Daylight." Their first chart-topper, "These Days," arrived two years later, but the three singles in between, as well as every other single they released until 2014's "Payback," landed in the Top 20.
The band's sophomore album, 2002's Melt, began a string of No. 1 albums that lasted until 2017's Back to Us (which hit No. 2), and they won four straight ACM Top Vocal Group trophies and six straight CMA Vocal Group of the Year honors. DeMarcus attributes Rascal Flatts' success to a dedication to their sound and style, despite changing trends.
"Nobody in the business sings like, or has sung like ever, Gary delivers a vocal ... The soaring melodies that we do ... the choruses always lift ... and I think it's what sets us apart from other acts that are out there in country music," he muses. "There's a unique buzz and a blend ... that you can't manufacture."
Country newcomer Rachel Wammack holds her own against LeVox on "Quick, Fast, in a Hurry," one of the newer tracks on the How They Remember You EP. Wammack shares a manager with Rascal Flatts, and when she was on the road with them for a bit in 2019, she impressed the band so much that they asked her to record the duet with them.
"She just sings her butt off," DeMarcus gushes. "When you get gary in the studio, finding somebody that can hang with him vocally is a really tough thing to do ... and she just came in the studio and absolutely killed it."
How They Remember You's title track is a poignant reflection on the legacies we all leave behind. And while the band is quick to joke about being remembered for their, shall we say, of-the-moment hairstyles and fashion, they're also happy to reflect on more important achievements: their Grand Ole Opry induction, their work with the Monroe Carell Jr. Children's Hospital at Vanderbilt, their multi-generational fanbase.
"We've always wanted to create timeless music ... We always, from day one, told each other, 'Let's put on a show that we would want to go see' ... We just want everybody to have a great time," the band reflects. "We've surrounded ourselves with great people, we've really put in a lot of hard work, and it pays off."
The outpouring of love that came after Rascal Flatts announced in January their plans to say goodbye was something special, they admit. "It was wonderful ..." DeMarcus reflects. "That's really the greatest gift that any artist could ever hope for."
While DeMarcus, LeVox and Rooney were hoping to spend one last summer on the road together, the novel coronavirus pandemic canceled their Farewell: Life Is a Highway Tour. Nonetheless, they're left with plenty of incredible memories, including so many that no one else saw.
"I'm gonna miss the times that we shared together that no one knows about, that no one sees ... the moments that we look at each other and know that we're at our best ... the time in the trenches that no one knows about ...," DeMarcus says. "We've seen the best of each other, we've seen the worst of each other, we've held each other through the saddest of times, through love and loss.
"It's a brotherhood ... and the day we don't have that anymore ... is gonna be very, very very sad and heartbreaking," he adds. "We're gonna have a heck of a legacy to look back on and realize that we were part of something very, very special and a very, very special time in country music."
Enter your number to get our free mobile app
LOOK: Country Music's Most Heartbreaking Splits