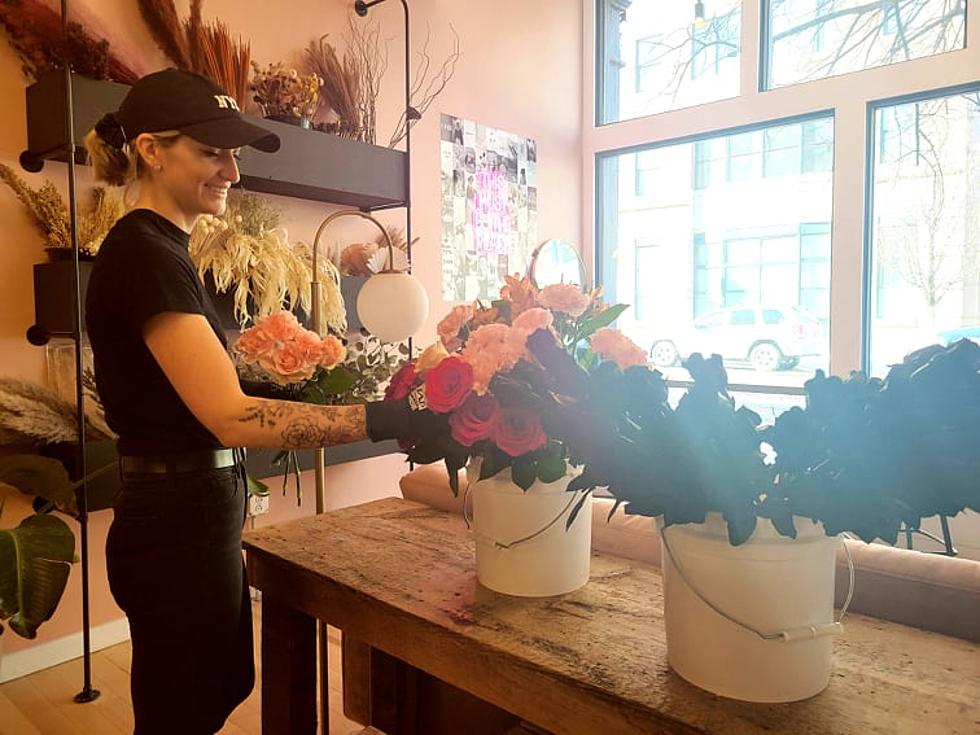 Roses Are Red, Violets Are Blue… Augusta Has A New Flower Shop!
Kristi Marie/ TSM
If you haven't visited Augusta's Water Street in the past several months or years, then you have no idea the amount of growth that has happened. Downtown Augusta is growing rapidly, and one of the newest businesses to join the downtown Augusta family is Callie's Flower Shop and Design Studio located at 267 Water St; and it's now open!
When owner Callie Dyer was asked where her love of Floral design came from, you'll be shocked to learn it wasn't a lifelong dream of hers. Even though Callie is a 3rd generation lover of flowers and grew up working in both her mom's and grandmother's gardens, it wasn't something she imagined she'd do full time.
It wasn't until Callie sat down in the break room at her previous job and opened a magazine that happened to feature a "gorgeous floral display" did she know it was where her passion was. From there, Callie and her husband Ethan purchased a vintage ice cream truck, which they planned to create into what they called "Flower Truck Co.". Unfortunately, that didn't work as they hoped and led them to rebrand the business into a brick a mortar with a new name.
Callie's Flower Shop & Design Studio is the perfect place to stop in for a single long stem rose, a whole bouquet for that special someone in your life, and they even specialize in Bridal flowers. Guests looking for out-of-season blooms can make special orders for those items, but they should expect a two-week turnaround time.
The next time you're in the Augusta area, make a stop downtown and welcome Callie to the best community out there!
Check Out 2021 Thru Kristi Marie's Eyes In Just 12 Pictures
The Best Central Maine Discount Stores
Discount stores can really help stretch a budget. Will so many great stores around the area, here is a list of some of the best discount stores we have found in Central Maine.
Central Maine Places To Take Your Dog In The Winter
Our Dogs are part of our families and in winter we want to take them with us. These are a few great places that are dog friendly....even in the winter!
15 Must Have Items Our Listeners Take When Flying
Here is a list of 15 must-have items that our listeners take with them when traveling by airplane.
Hey, have you downloaded our FREE app? If not, you totally should. With the app, you can stream us anywhere; you can also send us messages to win exclusive prizes, and you'll even get the latest breaking news sent right to your phone. Want to download the app right now? All you've got to do is enter your mobile number below, and we'll send a download link right to your mobile device. It's that easy!