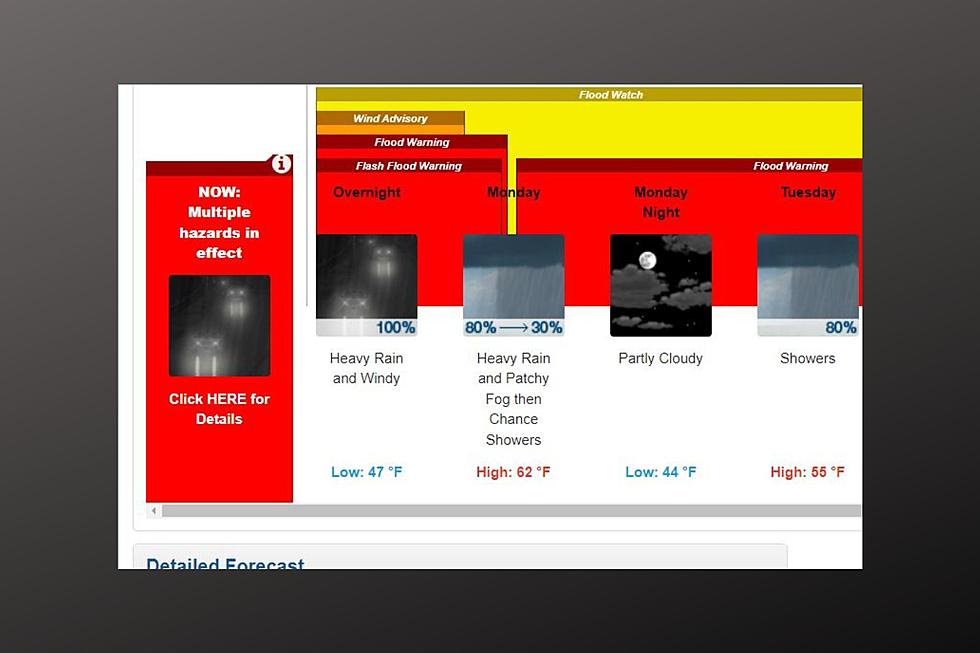 SEVERE WEATHER ALERT: Multiple Warnings in Effect For Central Maine Monday Morning
NOAA, Matt James, CANVA
If you haven't heard the gusting winds this morning than you must have wicked-good sound proofing built in to the walls of your house. Because it is wicked-super-windy out there this morning.
This morning, Monday, May 1st, 2023, the National Weather Service has issued a flash flood warning for several parts of Maine, including Central Maine and Kennebec County. The National Weather service has indicated that by the time this particular storm system moves out of the region, the Central Maine area could receive upwards of 3-5 inches of rain...that's a TON of rain.
Couple that with the fact that ponds, lakes, brooks and streams are already running fairly high due in part to the spring snow-melt and the fact that we've already received a bunch of rain in the last couple of weeks, and it could easily spell disaster for your morning commute today.
The flash flood warning comes to an end at 11 this morning, however a 'standard' flood warning will remain in effect in Central Maine through early Wednesday morning as more rain is expected Tuesday and Tuesday night.
In addition to the flash flood warning today, there is also a wind advisory in effect for the region. As of early Monday morning, Central Maine Power was reporting thousands in Kennebec County alone with no power.
As far as the weather for the rest of the week, don't be expecting a ton of sunshine because you won't see it. At least not much anyway. As of right now, our next chance at seeing a day's worth of sunshine will be this coming Sunday. The forecast, at least six days out, is calling for a mix of sun and clouds and highs approaching the 70 degree mark- but let's not hold our breath.
CLICK HERE FOR A FULL LIST OF REPORTED POWER OUTAGES
Do You Remember These 8 Crazy Maine Weather Events?
Do You Remember These 8 Crazy Maine Weather Events?