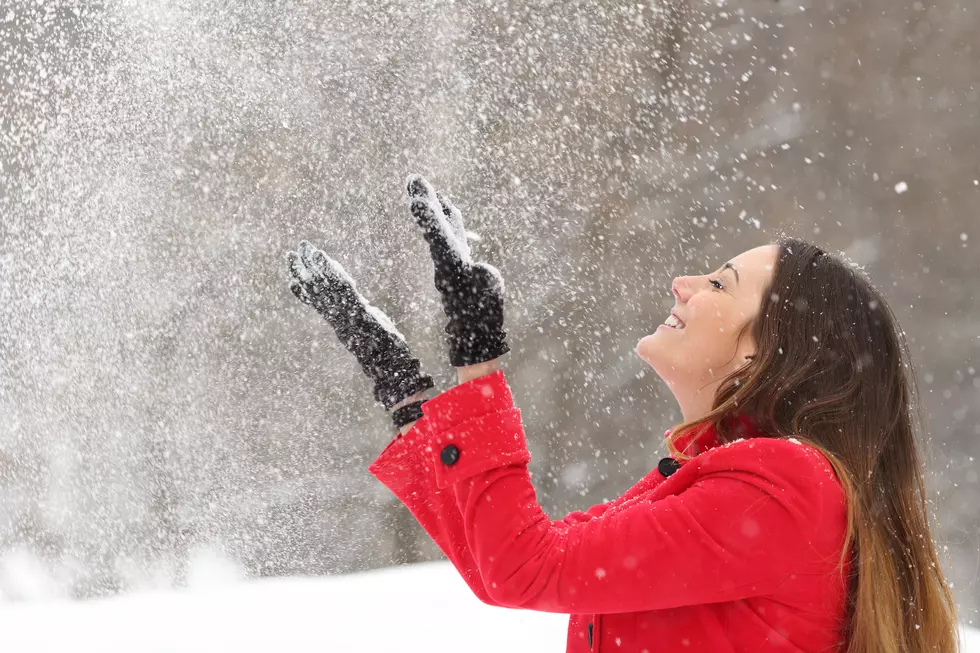 Snow Totals for Winter Storm Skylar
Thinkstock
The Weather Channel called this one Skylar.  (I love The Weather Channel for naming these storms!)
As I write this it is still snowing. I have not put on my winter boots and made my way into the radio station.  I have not even taken ShadowDog out ...yet.
What I have done is look at the reported snow totals from the National Weather Service from their network of spotters.
Check out the list below as of early today, it has the times these were recorded, so you know there is white stuff out there more.
...Androscoggin County...
   2 E Lewiston          14.5  1052 PM  3/13  Trained Spotter
   2 WNW Auburn          10.0   809 PM  3/13  Trained Spotter
   1 ENE Lisbon Falls     8.0   934 PM  3/13  Trained Spotter
   Livermore              6.0   720 PM  3/13  Social Media

...Cumberland County...
   North Sebago          15.0   940 PM  3/13  Trained Spotter
   1 SSW South Gorham    12.5  1109 PM  3/13  Trained Spotter
   Portland Jetport      11.0  1101 PM  3/13  ASOS
   Falmouth              11.0   746 PM  3/13  Social Media
   2 E West Falmouth Co   9.8   758 PM  3/13  Trained Spotter
   Brunswick              9.5   828 PM  3/13  Trained Spotter
   Cumberland Center      9.0   820 PM  3/13  NWS Employee
   1 WSW North Windham    9.0   825 PM  3/13  Trained Spotter
   1 S Todds Corners      8.2   902 PM  3/13  Trained Spotter
   NWS Gray Office        7.0   800 PM  3/13  Co-Op Observer
   Gray NWS Office        6.9   757 PM  3/13  NWS Office

...Franklin County...
   2 SE Beans Corner      9.0   754 PM  3/13  Trained Spotter
   Carrabassett Valley    8.5  1007 PM  3/13  Trained Spotter

...Kennebec County...
   Winthrop               8.0   722 PM  3/13  Amateur Radio

...Knox County...
   Thomaston             13.5   844 PM  3/13  Trained Spotter
   Rockland              13.0   939 PM  3/13  Trained Spotter
   1 SSW Camden          11.3  1034 PM  3/13  Trained Spotter

...Lincoln County...
   1 ESE Damariscotta L  10.5   943 PM  3/13  Trained Spotter
   East Boothbay          7.0   808 PM  3/13  Trained Spotter

...Oxford County...
   1 W Otisfield         15.0   803 PM  3/13  Trained Spotter
   Hartford              13.5   814 PM  3/13  Social Media
   1 W West Minot        12.5   757 PM  3/13  Trained Spotter
   Buckfield             12.0   854 PM  3/13  Trained Spotter

...Waldo County...
   2 WNW Jackson         16.0  1050 PM  3/13  Trained Spotter
   Belmont Corner        15.0  1026 PM  3/13  Trained Spotter

...York County...
   Sanford               24.0   951 PM  3/13  Social Media
   2 WSW Shady Nook      21.0   825 PM  3/13  Trained Spotter
   Shapleigh             19.0   905 PM  3/13  Social Media
   Waterboro             19.0   852 PM  3/13  Trained Spotter
   Hollis                18.5   952 PM  3/13  NWS Employee
   2 NNW Ruin Corner     18.2   904 PM  3/13  Trained Spotter
   1 SSW Cornish         16.0   804 PM  3/13  Trained Spotter
   Berwick               16.0   852 PM  3/13  Social Media
   3 WSW Steep Falls     14.5   805 PM  3/13  Trained Spotter
   Kennebunk             12.0   742 PM  3/13  Social Media
   Bartlett Mills        11.6  1032 PM  3/13  Trained Spotter
   2 NNW Saco            10.5   840 PM  3/13  Trained Spotter