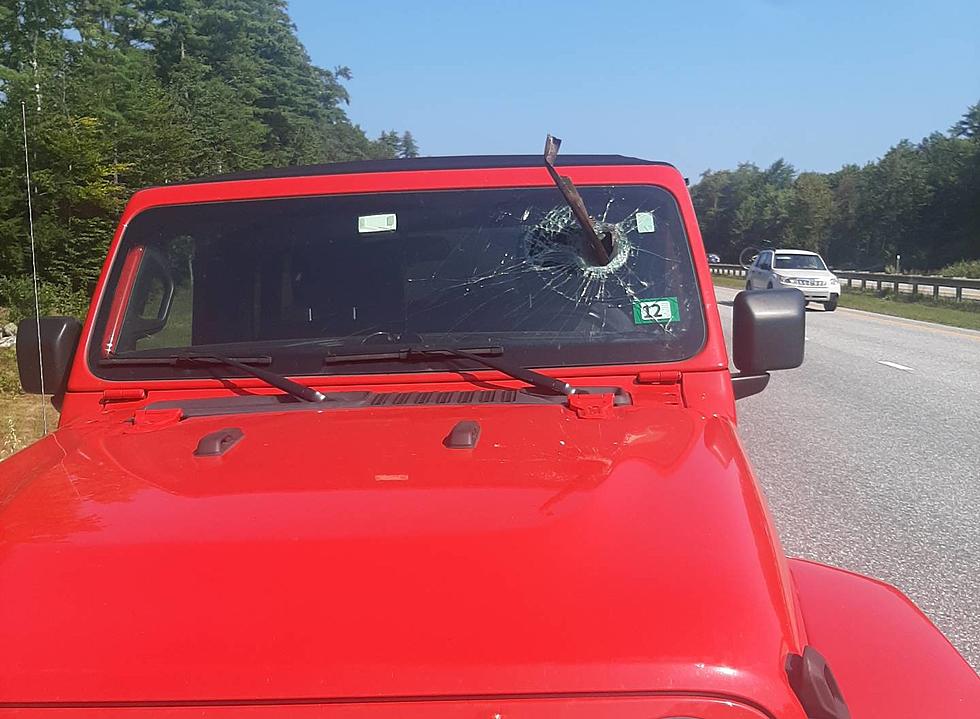 Terrifying Near-Miss: Maine Turnpike Driver Dodges Impalement by Inches
Maine Public Safety Dept
If I were her, I'd buy a lottery ticket.
On the Maine Turnpike in Gray near Mile 61 a 21-year-old woman from New Hampshire had the scare of a lifetime. According to a press release from the Maine Department of Public Safety, she was driving south on the turnpike when someone also going south kicked up a piece of metal road debris into the air. It impaled the driver's side windshield.
That is a 2021 red Jeep Wrangler with something sticking out of the windshield. Whatever that debris was, it was just inches from her face. She was able to safely pull over to the side of the road. She had only minor injuries and was checked by paramedics on the scene. Troopers helped her reunite with her family when she left the crash scene.
One lane was shut down for about an hour on Tuesday, September 5, in the morning around 10:30 am.
Can we just talk about the composure of a 21-year-old driver? I've been driving for decades, and I don't truly know if I could have safely pulled my car over to the side of the road with only minor injuries. I know that for a while, she will replay that scene over and over in her head and wonder how she walked away unharmed. I don't know why or how, but I am so thankful that this had such a happy ending. Not so happy for her Jeep, but the windshield can be replaced. I hope she took the rest of the day off.
LOOK: Highest-rated free things to do in Maine, according to Tripadvisor