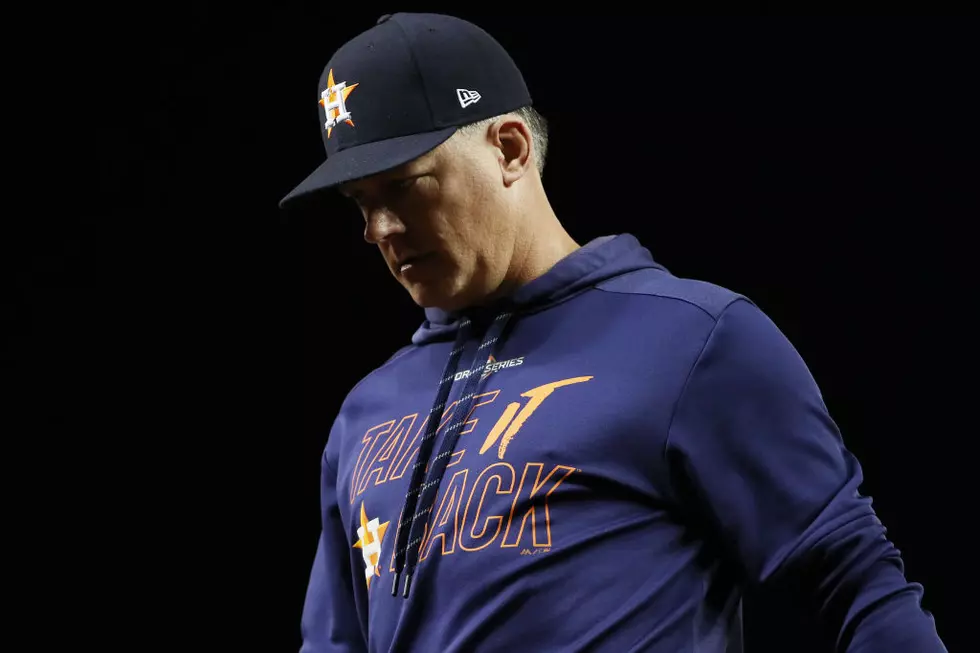 The Houston Astros Fire Manager and GM After MLB Suspension
(Photo by Patrick Smith/Getty Images)
The Houston Astros were informed today that the investigation into the 2017 cheating scandal has been concluded and that the manager AJ Hinch and general manager Jeff Luhnow would be suspended until the end of the 2020 postseason. The Astros were also informed that they would be losing their first and second-round picks in the 2020 and 2021 drafts. The Astros were also levied the maximum fine of $5 million and their former assistant general manager was put on baseball's ineligible list.
It's important to note that even though multiple players were named during the investigation and there is clear evidence of them being complicit in the cheating, there will be zero player suspensions stemming from this scandal.
All of this was announced in a document released by MLB commissioner Rob Manfred who hammered the Astros' front office culture saying it has been, "very problematic."
Because of the suspensions and the obvious lack of integrity shown from both Luhnow and Hinch as they've led the ship for the Astros through the controversy the Owner and Chairman of the Houston Astros have fired both men.
In the same press conference, Crane said he would be taking over the Baseball operations and that there would be a general manager hired from within.
The Astros will also need to hire a new manager with less than a month to go before pitchers and catchers are scheduled to report.
Now, the gaze shifts north to Boston where manager Alex Cora will be the next to hear his fate. He was allegedly the ringleader of the cheating in Houston as the team's bench coach on their way to a World Series and then his team won the World Series in Boston the very next year in his first season as manager.
There is a separate investigation being conducted into Cora and the Red Sox misconduct.