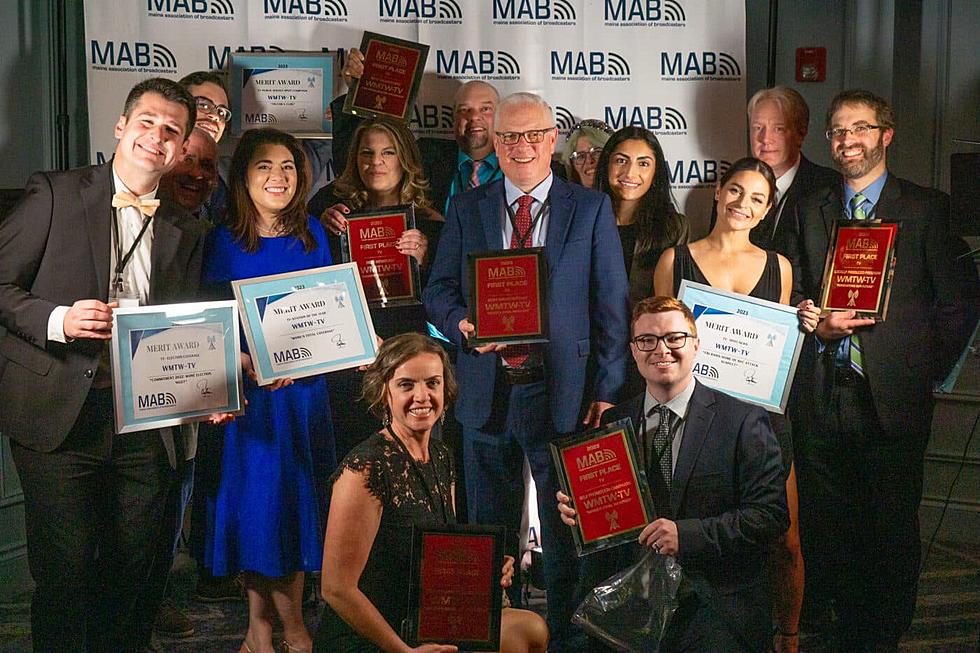 The Sweetest Interaction Between Two Maine News Reporters That Most People Missed
Matt Barnard
This interaction wasn't anything that was broadcast on television, downtown in the Old Port, or out in the open anywhere else in Maine, for that matter.
It happened so subtly and at a private event, but quite honestly, the impact and good vibes from it deserve to be shared on a public platform, because we all need a person like this, whether it's in our personal lives or at the workplace.
Maine Association of Broadcasters Awards
Recently, Maine broadcasters from both radio and television were brought together at the Portland Sheraton at Sable Oaks in South Portland, Maine, for the Maine Association of Broadcasters Annual Convention and Awards Gala -- or MABs, for short.
(The irony about the name of the event is that it contains the word 'annual,' but due to the status of the world, this was the first time the event happened since 2019, which made it an even more special evening.)
Cindy Williams and Pat Callaghan Reunite
One of the highlights of the MABs this year was finally getting the chance to honor inductees into the MAB Hall of Fame from not just this year, but the past few years as well, one of which was NEWS CENTER MAINE icon, Cindy Williams.
After being hyped up and introduced by her former co-anchor, the recently retired Pat Callaghan, Cindy took the podium and went on to sing her former colleague's praises, including one very touching moment where she mentioned a special part of their over three-decade partnership inside Maine households everywhere.
We were able to finish each other's sentences, and if there came a point during a story where he could tell I was becoming emotional and unable to finish the story, he would pick up the rest, and in turn, would also pick me up.
And that's when this beyond sweet and almost fully unnoticed moment between two Maine reporters happened -- but it wasn't between Cindy and Pat (although, that was obviously very touching, as well.)
WMTW's Cristina Frank and Kathleen Jordan
For years, Cristina Frank and Kathleen Jordan both brought viewers Maine's Total Coverage every weekday morning on WMTW, until recently when Kathleen moved to afternoons and evenings, and Cristina was joined every morning by returning reporter Jessica Gagne.
However, with years of early mornings together under their belts, the bond was (and still clearly is) there between Cristina and Kathleen, proven to each other and the keen-eyed author of this article sitting behind them at the MABs.
Because after Cindy made the comment about Pat picking her up during tough situations in broadcasts, Cristina turned her head back toward Kathleen while reaching for her hand, and the two not only interlocked hands but exchanged smiles as if to both show each other the appreciation for both picking the other up in times of need during their own broadcasts.
And, quite honestly, we should all be so lucky to not only have co-workers like that in our lives -- those people who are always there to lift you up in times of need when the goin' gets tough -- but truly, we should all be so lucky to have people like that in our lives in general.
20 Restaurants Mainers Want to Bring Back
LOOK: Controversial songs from the year you were born
Stacker
celebrates history's most boundary-pushing—and thereby controversial—songs from 1930 through today.
Gallery Credit: Stacker