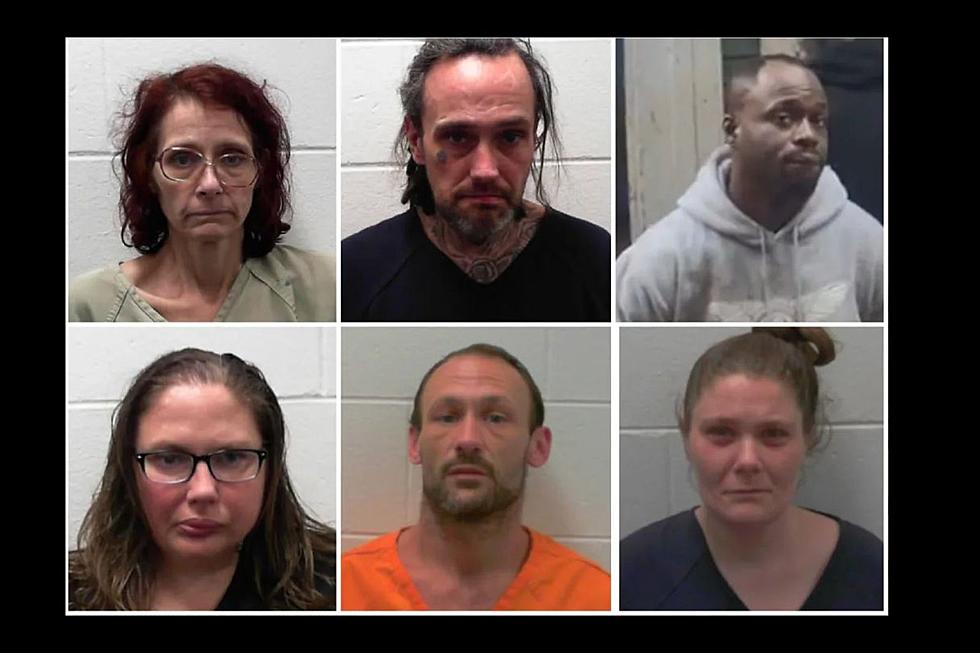 6 Arrested After Officers Confront By Man With Gun & People Tossing Drugs Out The Window in Auburn, Maine
Auburn Mugshots
Police say 6 people are in custody following a raid on a suspected Auburn, Maine drug den following anonymous tips from neighbors in the area.
According to an article in the Lewiston Sun Journal, Auburn Police Department, with the assistance of the Lewiston Police Department, raided a suspected drug house Tuesday morning in Auburn on Western Promenade.
The paper reports that the raid was put in motion following the approval of a search warrant on the 15 Western Promenade home. Police say when they approached the house, they were met at the front door by a man with a gun. While they were dealing with him, police say they witnessed 'dozens' of other people in the house, many of whom were tossing illicit drugs out of the windows.
Police raided the house and, in addition to thousands of dollars worth of a variety of illegal drugs, they also found 23 people. Some of those people, according to police on scene, were very difficult to find. Police say that several people had to be removed from inside the walls of the house.
Police say they found fentanyl, crack cocaine, mushrooms and other drugs inside the residence. As a result, 6 of the 23 people inside were taken into police custody.
The Lewiston Sun Journal announced the following arrests after the conclusion of the raid;
• Matthew Messenger, 42, of Auburn was arrested on four outstanding warrants for theft and numerous drug-related offenses. In addition, he has also been charged with the new crimes of illegal possession of a firearm by a felon and violation of conditions of release because he was currently out of jail with an active bail contract for pending crimes. Messenger's bail has been set at $30,000.
• Hakeem Warling, 29, of New York was arrested after being located in the crawl space hiding from police. He was charged with illegal possession of a firearm by a felon and criminal simulation as the firearm he is accused of throwing from the window had the serial number scratched off. Bail was set in the amount of $2,500.
• Nadine Small, 52, of Auburn was arrested for being a fugitive from justice out of New Hampshire. New Hampshire will extradite her back there for charges related to identity theft, police said.
• Joanna Sherrer, 43, of Phillips was arrested on three outstanding warrants for multiple theft charges.
• Christopher Noel, 38, of Lisbon was arrested on two outstanding warrants for aggravated assault, assault, as well as
driving offenses.
• Crystal Guilbault, 36, of 15 Western Promenade was arrested on an outstanding warrant for theft and violations of conditions of release.
Part of a subsequent news release said in part about the raid,
"While executing the warrant, officers knocked on the door announcing their intentions. A male was observed tossing a handgun from a third-floor window. A bag of narcotics was also tossed from another window. At the same time, two individuals attempted to exit the building through different windows. Officers quickly secured the firearm and narcotics and detained the two attempting to flee."
"While conducting the interior search of the residence, officers discovered a void in a wall at the end of a crawl space. Officers removed the wall and located three subjects hiding inside. Among the three was the male subject who officers had observed tossing the gun from the window. In total, 23 people were located inside the residence, several of whom were on bail contracts for pending criminal cases. Others had outstanding warrants for their arrest."
Mainers Say These are the First-Winter Essentials
Gallery Credit: Jason Stewart