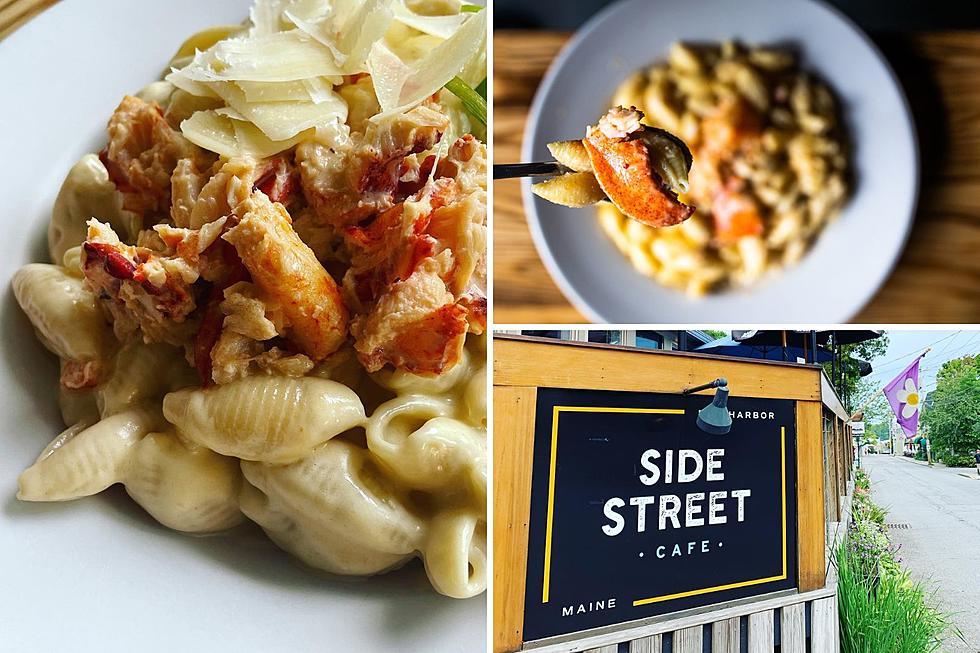 A Restaurant in Bar Harbor Apparently Has Maine's Best Mac 'n' Cheese
Side Street Cafe via Facebook
Fall in Maine
Fall is rolling in here in Maine. That means shorter days, cooler temperatures, football weekends, and preparing for winter.
It's also the official start of comfort food season.
Sure, you may have some hearty plates during the warmer months from time to time. However, fall is the time to truly start packing on the calories to, you know, stay warm in the winter...or some excuse like that.
Mac 'n' Cheese
One of comfort food's major players has to be macaroni and cheese. This diverse plate of deliciousness deserves a mention in any hearty food discussion. Its rich, creamy, cheesy, salty, and can have just about anything added to it and still taste amazing. It also has remarkable versatility, considering it can be cooked in various ways.
Mac 'n' cheese might be the most popular thing in America. It's so good, it could have the power to even bring us all together.
All of these reasons (and probably more) are probably why the popular website LoveFood took a much closer look at it. In fact, the culinary website decided to make a list of the best mac 'n' cheese in every state. Maine's selection can be found in one of the most popular towns in the state.
Maine's Best Mac 'n' Cheese 
According to LoveFood, the best mac 'n' cheese in Maine is from the Side Street Cafe in Bar Harbor. The trendy spot's 'Lobster Mac 'n' Cheese" was the reason why.
Lobster Mac has become the thing in Maine. There's a pretty good chance that wherever you go out for comfort food, there will be a lobster mac available. And of course, some places do it better than others.
Side Street Cafe's is one of those places. It starts with pasta shells, covered in sharp cheddar and heavy cream. It's finished with a heap of fresh picked Maine lobster; nothing fancy, but hits like a five-star meal.
Here is a little of what LoveFood thought about this iconic Maine meal from the Side Street Cafe.
It's a creamy bowl of pasta shells (rather than macaroni) with shaved cheese and a huge amount of lobster. Be warned: it will ruin every other mac 'n' cheese for you.
I don't think it will ruin every other mac 'n' cheese for you, but it will leave a lasting impression, as with all the other mac 'n' cheeses on the Side Street menu.
Not a fan of lobster? No problem. The cafe has an entire menu section dedicated to its mac 'n' cheese creations. This includes one with pulled pork and jalapeños, and another that features steak tips. You could go once a day for a week and get a different mac 'n' cheese variation every night.
You should also check out the rest of the menu, because the Side Street is loaded with popular fare. It even includes mac 'n' cheese bites on the appetizer menu.
Congrats to the Side Car Cafe on this great national recognition. It's always wonderful to see small Maine businesses in the spotlight. I know the next time I'm up in Acadia, my visit will include a trip to the Side Street Cafe.
31 Bucket List Restaurants in Maine
Here are 31 Maine restaurants that folks told us are bucket list worthy. They are very diverse can be found across the state.
20 Greater Portland, Maine, Restaurants That Have Been Featured on National Television Shows
Here's a list of 20 prominent Greater Portland, Maine restaurants that have been featured on national television shows. This is a great representation of the region's incredible food scene.