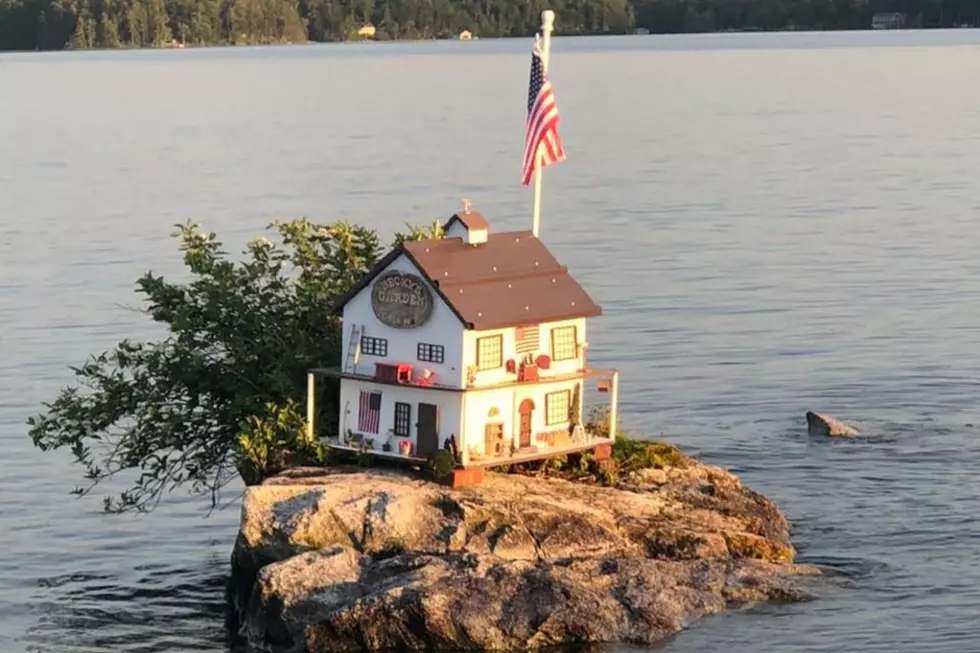 This is the Legend of Becky's Garden, the Smallest Island on Lake Winnipesaukee in NH
Becky's Garden on Lake Winnipesaukee, NH via Facebook
No matter how much time you've spent on Lake Winnipesaukee, you may be surprised to hear about the existence of a tiny, very special island. In its ordinary state, the patch of land is nothing more than a rock with a bush on it. But a local legend and a charming little house have given new life to this location, which also happens to be the smallest charted island on the lake.
Let's take a look at Becky's Garden.
Here's a picture of how the island compares in size to humans.
As you can see, she's definitely a teeny one.
So what's the legend behind this island? And why the cute little house?
Well, according to the Lake Winnipesaukee Historical Society, the legend of Becky's Island revolves around an early settler of Center Harbor who had multiple daughters, including Rebecca. Unlike her spoiled sisters, Rebecca was a "model young lady" who took care of a garden near her father's house. After the garden was destroyed by cattle, Rebecca's father wanted to comfort his daughter by gifting her one of the islands in the lake. Since her sisters were jealous that she got to pick first, Rebecca decided to select the smallest island there was, while the others selected larger, greener islands.
As for the dollhouse, the LWHS explains that "a model house, complete in every detail, is placed on the island to distinguish it as inhabited despite its size— all in memory of the unspoiled Becky."
According to the Weirs Times and the Garden's Facebook page, Becky's Garden is currently owned by Stephanie and Bill Knighton, who have "put out the house and its various "furnishings" for over 20 years", according to a Facebook comment on their page. The home is safely stored away during the off-season, but is brought out again each summer to keep the tradition alive.
Here's a closer look at the little house up close. The details are so precious.
To pay a visit to Becky's Island, journey to "the north end of Lake Winnipesaukee, south of Center Harbor, midway between Two Mile Island and Three Mile Island", according to the Weirs Times.
Speaking of islands, take a look at this private frame cabin that's situated on its own island in New Hampshire.
A Frame Cabin on it's Own Island in New Hampshire is Elegant Serenity
There is no better place to get away from it all that the A Frame Cabin at Oliver Lodge. It's located on it's own island in the middle of Lake Winnipesaukee!
Take a tour of the inside.
Gallery Credit: Kira Lew
Move Over, Disney World, the Legendary Kimball Farm Is 50 Acres of Family Fun Time in Massachusetts
Kimball Farm in Westford, MA is like the Disney of the North Shore, with over 50 acres of fun activities for the whole family.
Gallery Credit: Ginny Rogers