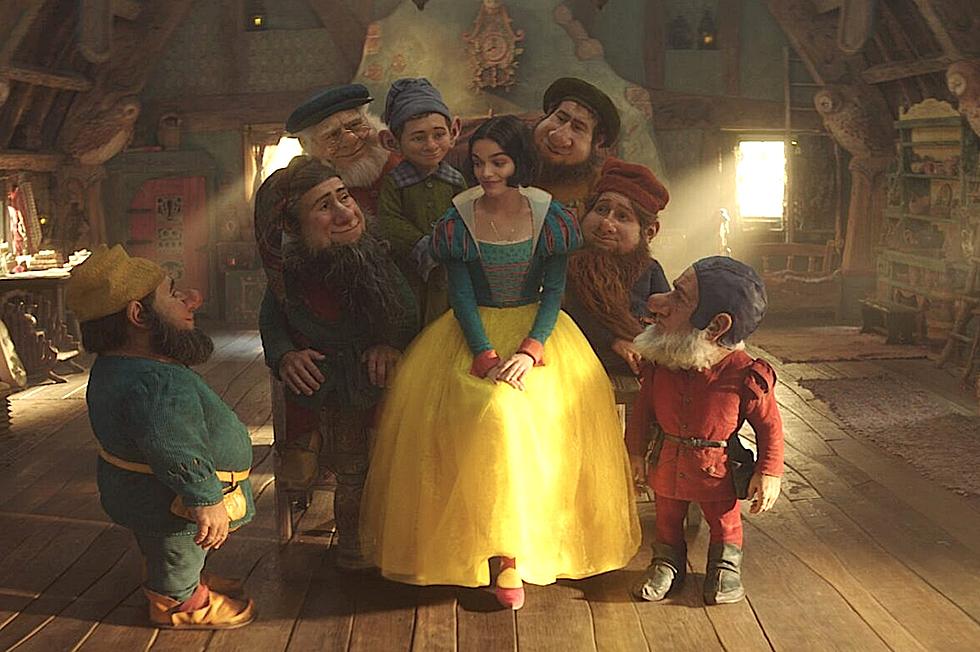 Disney Reveals First Look at 'Snow White' Live-Action Remake
Disney
Behold the first image from Snow White, the upcoming live-action version of Disney's very first animated feature, Snow White and the Seven Dwarfs. As you can see it stars Rachel Zegler as Snow White. I don't know who is playing the Seven Drawfs but ... there they are. Not pictured here is the Evil Queen, who will be played by Gal Gadot.
This teaser for the film might suggest it is almost done — but it is not. In fact, Disney has now delayed the film, per Variety, by a full year. The movie was originally scheduled to open in theaters ON march 22, 2024. Now, it won't arrive in theaters until March of 2025 at the earliest.
READ MORE: The Worst Disney Live-Action Remakes
At the same time, Disney has completely removed Magazine Dreams, an acclaimed film that played at the Sundance Film Festival and was acquired by the company's Searchlight Pictures, from its release calendar. The film stars Jonathan Majors as a troubled bodybuilder. But since Searchlight bought the film Majors has been the subject of legal troubles, and he will soon go on trial in New York over allegations of assault involving his former girlfriend.
Disney also delayed Elio, Pixar's next new sci-fi film. Originally planned for March of 2024, it is now due in theaters on June 2025. Most of these movies can be attributed to production delays caused by the recently concluded writers' strike and the ongoing actors' strike.
Snow White is the latest in a long line of mostly very profitable live-action remakes from Disney. To date, the studio has made new versions of many of its animated classics like Cinderella, Pinocchio, and The Lion King. But Snow White remains one of the studio's most beloved titles — and most important, because it was the first animated feature ever made, not just for Disney but for film in general.
The live-action Snow White will now open in theaters on March 21, 2025.
Great Disney+ Movies You Might Have Missed
These excellent films are all waiting to be discovered on Disney+.