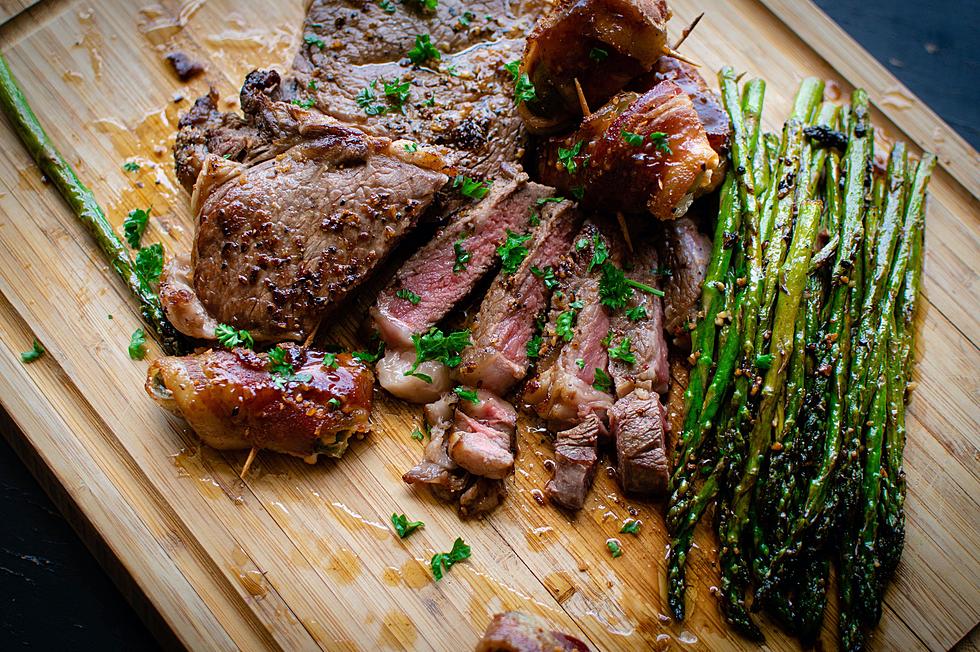 Here's The Top 10 Restaurants To Enjoy Steak On Maine's Mid-Coast
Photo by Ashley Byrd on Unsplash
The Mid-Coast of Maine has some of the best restaurants in the state, if not the country. If you are looking to expand your culinary prowess, you have come to the right place. Although these restaurants all serve a variety of entrees, they also all have one thing in common....an amazing "steak" offering. Explore, indulge, and enjoy, the best steaks to be found in Mid-Coast Maine
Top 10 Restaurants To Get Steak In Mid-Coast Maine
These restaurants all serve a variety of entrees, they also all have one thing in common....an amazing "steak" offering. Explore, indulge, and enjoy, the best steaks to be found in Mid-Coast Maine
Primo
2 Maine Street, Rockland, ME
A complete "Farm to Plate" experience. Primo has a full staff of 60 with 2 greenhouses, over 200 laying chickens, 150 broiler chickens, 5 ducks, 15 pigs and 3 acres of vegetables continuously rotating throughout the warm season. Executive Chef Melissa Kelly is a 1999 & 2013 James Beard Award winner. The restaurant closes for the winter but be ready once warmer months arrive. The Grilled New York Strip Steak with pommes boulangere, which are tiny potatoes glazed in veal stock with pancetta, onions and thyme, crisp onion rings, grilled local oyster mushrooms, and Hinona turnip delights the palate. Primo is not to be missed!
18 Central Oyster Bar & Grill
18 Central St., Rockport, ME
Casual Fine Dining with a Wood Fired Grill & Raw Bar. 18 Central appeals to all ages and all types of occasions. It's really the one place in the area that everyone can agree on. The menu does change often to reflect the fresh offerings of the season but you can always get the scrumptious Grilled Hanger Steak, sauteed with bone marrow steak butter, topped with a red wine sauce, served with herbed frites, and delightful pickled Shimeji mushrooms and watercress.
In Good Company
415 Main St., Rockland, ME
In Good Company is known for its extensive wine list designed for food pairings, great cocktails, daily menus that focus on locally-sourced, fresh ingredients, and a comfortable casual atmosphere. Chef/owner Melody Wolfertz dazzles with her daily offerings feature light tapas and a variety of tasty offerings. Make sure to check out their signature Blue Cheese Butter Crusted Beef Tenderloin with mashers and red wine demi. Quaint, delish, and good for you too!
Hartstone Inn
41 Elm St., Camden, ME
Experience gourmet Maine dining at the majestic Hartstone Inn. The restaurant is open Wednesday – Sunday to the public. They allow you to indulge in their divine 3 course menu, and treat yourself to the ultimate fine-dining experience. You can't go wrong with the Hanger Steak topped with blue cheese compound butter, grilled vegetable, roasted garlic mash, and a tomato demi. Mmmm...mmmm...great!
Park Street Grille
279 Maine St., Rockland, ME
Park Street Grille ready hits a home run with the tex-mex flavors. A solid choice for both lunch or dinner. A few surprises you may not expect but hit it out of the park, pun intended, are the flank steak on a sliced beet salad on a bed of arugula, and also the prime rib with mashed potatoes and veggies will keep you coming back again and again.
Frannys Bistro
55 Chestnut St., Camden, ME
Franny's does it right! A perfectly balanced menu where they truly believe that each meal is an emotional experience, the sights, the smells, the sounds, all go to form memories you'll take with you and cherish for a long, long time. You really can't go wrong with anything on their menu. Meat lovers delight over the Wood-Grilled Bistro Steak served along with grilled romaine, goat cheese aioli and garlicky fries. Open for dinner several nights a week.
Cafe Miranda
15 Oak St., Rockland, ME
Cafe Miranda is located in downtown Rockland, Maine and has been a staple since 1993. They have a vast menu of wood-fired oven items, and some adventurous ethnic dishes too using locally harvested ingredients from our own farm. Don't miss the "Steak Kimchi", a seared sirloin steak, NocheBam kimchi, yello jasmine rice, scallions, topped with cilantro. Open for lunch or dinner seven days a week.
Fresh & Co.
1 Bayview Landing, Camden, ME
Fresh & Co has evolved through the years to become a globally inspired eatery featuring dishes from around the world. The menu is the result of a commitment to creating exciting and memorable dishes. It can be hard to get in without reservations so plan ahead and you will be richly rewarded. I love their Filet Mignon, served with roasted fingerling, cippolini onions, blue cheese butter, demi glace, asparagus, and the perfect blend of herbs.
Archers On The Pier
58 Ocean St., Rockland, ME
Archer's on the Pier is located directly on Rockland's pristine waterfront with views that warm the soul. Enjoy innovative and tasty menus for lunch and dinner created with the best sustainable proteins and local produce. Mostly revered for their seafood, Archers also offers an amazing hand cut Angus Beef Delmonico Ribeye that will melt in your mouth.
Peter Ott's on the water
16 Bayview Landing, Camden, ME
This warm weather destination combines the perfect atmosphere with tantalizing local cuisine with American flare. Located on Camden Harbor right next to the public landing, Peter Ott's serves lunch and dinner, and is my go-to whenever I head out on the Schooners. The menu is a perfect mix of fresh, fun fare with the prime flat iron steak being one of my favorites with a healthy dose of chimichurri, served with in season vegetable and mashed potatoes.