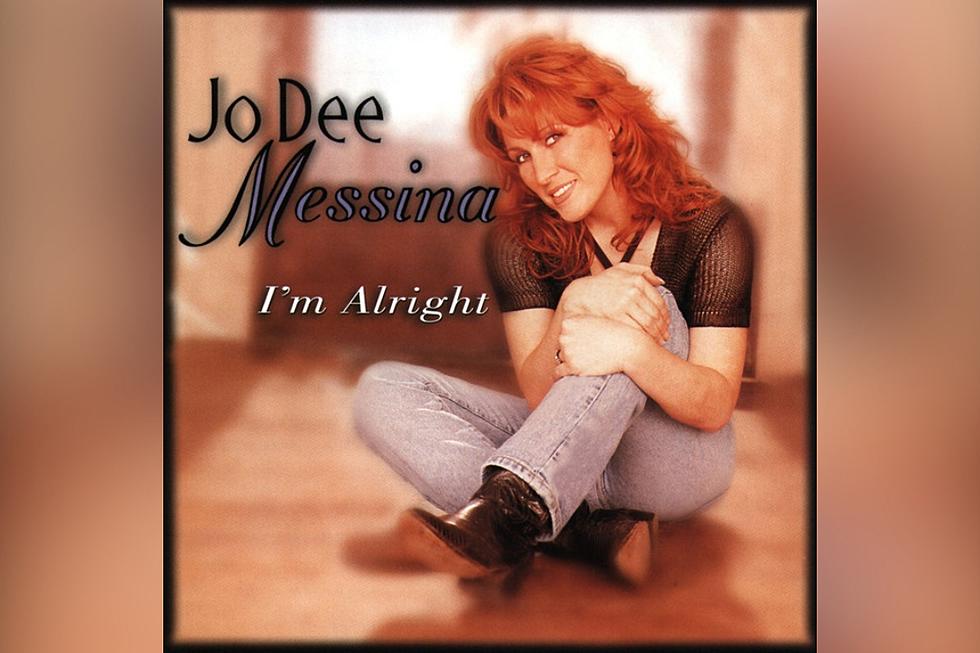 Classic Albums Revisited: How Jo Dee Messina's 'I'm Alright' Became a Soundtrack For Our Lives
Curb Records
When it comes to Jo Dee Messina's sophomore album, I'm Alright, the word "revisiting" almost seems out of place, even though twenty-five years have passed since its release in 1998. This feeling of uncertainty emerges because it's impossible to revisit an album that you have never lost touch with in the first place. The songs on this album were crafted to be the soundtrack for the long-haul journey, never to become a fixture of the past. This destiny is right in the title track's opening lines: "I knew we'd meet again, another time, another place." 
And we have, time and time again. Like so many 90s kids who grew up on country, my first memories of hearing the songs on I'm Alright come from childhood, sitting cross-legged on the living room floor with my neck craned to the TV, watching Messina tell her lover "Bye Bye," while driving off across the CMT TV screen; or watching my mother reach to turn the volume up whenever "Lesson in Leavin'" played on our local radio station (which was constantly, as the song spent 20 weeks on the Billboard Hot 100 charts). Messina's tales of scraping by, falling in and out of love, putting her foot on the gas, and vowing not to look back were a constant presence in our lives. Hearing her on the radio was like hearing from a cool older sister who was calling from further up on down the road.
The connection that my mother and I felt to the songs on I'm Alright was hardly unique to us. The album went platinum two times over and yielded three No. 1 singles for Messina -- "I'm Alright," "Bye-Bye," and "Stand Beside Me," -- plus two more in the Top 10 ("Lesson in Leavin'" and "Because You Love Me").
As a little girl, my favorite thing about these tracks was how they made us loudly and proudly sing along, taking the long way home just for the chance to finish the song. Before long, I would grow into a woman who felt seen with "No Time For Tears," learning just what Messina meant when she said, "You wouldn't let me love you / You're just too hard to hold / I gotta break the chains that bind me." Like hand-me-down clothes, these were songs for girls everywhere to grow into.
This supreme lived-in quality has made I'm Alright just as relevant today as it was twenty-five years ago. Is there a more fantastic country-kiss-off song than "Lesson in Leavin'?" No. Few lines are as cathartic to shout out at the dashboard as "You're a fool-hearted man!"  Is there a moment more triumphant than when Messina declares, "I've got pride and I'm taking it for a ride"? There is not. It's no wonder that I'm Alright has never left the collective country consciousness. They have always been one play away, ready to offer up more heart and gumption than we could have mustered up all alone.
Twenty-five years after I'm Alright, I've said my own bye-byes, had my share of lessons in losing and leaving, and finally learned what Messina meant when she sang, "I want a man to stand beside me / Not in front of or behind me." While I'm Alright launched Messina into bona fide country music stardom, the album launched legions of fans who would come to learn how to say "I'm alright" and mean it.
Jo Dee Messina, I'm Alright Track List:
1. "I'm Alright" (written by Phil Vassar)
2. "Stand Beside Me" (Stephen Allen Davis)
3. "Even God Must Get the Blues" (Dene Anton, John Scott Sherrill)
4. "No Time for Tears" (Steven Dale Jones, Jo Dee Messina)
5. "Lesson in Leavin'" (Randy Goodrum, Brent Maher)
6. "Bye Bye" (Rory Bourke, Vassar)
7. "Silver Thunderbird" (Marc Cohn)
8. "I Know a Heartache" (Charlie Black, Bourke, Kerry Chater)
9. "Because You Love Me" (Kostas, Sherrill)
10. "Cover Me" (Trey Bruce, Robin Lee Bruce)
Jo Dee Messina Through the Years
From her career takeoff in 1999 to her surprise comeback, sparked by
Cole Swindell
's hit tribute "She Had Me at Heads Carolina," take a look back at these pivotal moments from
Jo Dee Messina
's country music career.