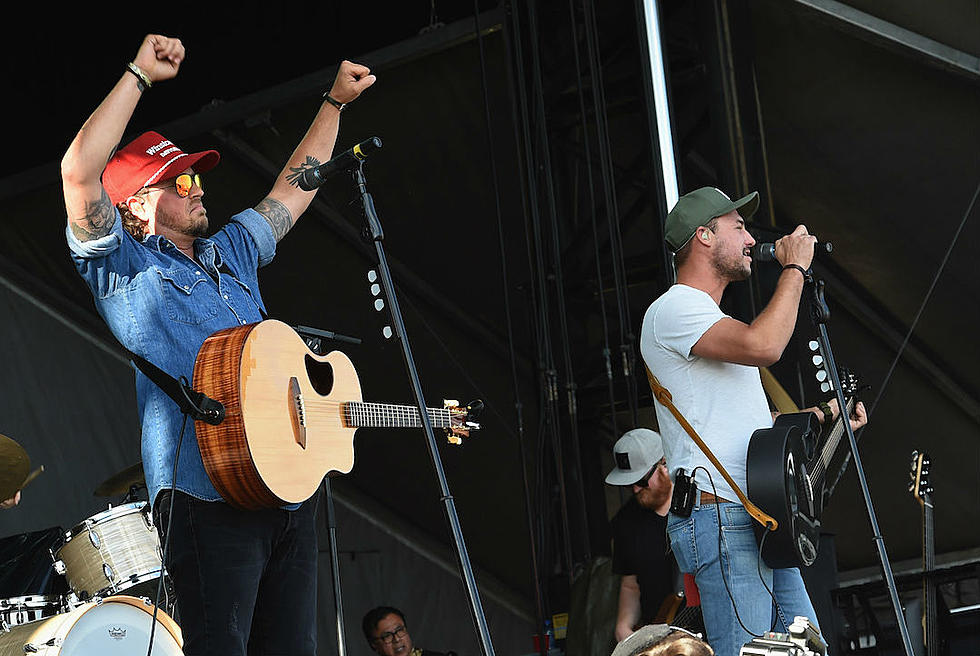 Love and Theft's 'Gimme Tonight' + 3 More New Songs You Need to Hear
Rick Diamond, Getty Images
This week, some country artists shared songs that celebrated the very early stages of a budding romance, while others reclaimed the grief that comes after a breakup and turned it into something worth dancing to. Elsewhere in country music, artists were saluting their roots and paying tribute to the hometowns and families that built them. Read on! 
Love and Theft, "Gimme Tonight":
Love and Theft, comprised of Stephen Barker Liles and Eric Gunderson, have released an upbeat new song called "Gimme Tonight." The duo sings about trying to get some time with a girl they're hoping to dance with, buy a drink for and get to know. "The first time I heard the song, I fell in love with it instantly," explains Barker Liles in a press release. "I sent it over to Eric, and he loved it as well. This song was on the top of everyone's list when we went to the studio to cut songs for our new album. It really showcases a cool side to us and the crowds at our live shows are crazy about it." "Gimme Tonight" was written by the Cadillac Three's Jaron Johnston and the late Andrew Dorff. -- CC
Jessie James Decker, "Roots and Wings":
In "Roots and Wings," Jessie James Decker is trying to find the balance between where she is from and where she is headed. The country-meets-pop track is all about staying grounded while reaching for your goals: "Roots and wings / I'm somewhere in between / Where I'm from and what I dream / What I've known and what I've seen," Decker sings. "No matter where I go / The sky above, the ground below / My heart will have a home / 'Cause I got these / Roots and wings." -- CC
Tegan Marie, "I Don't Know What Is":
Tegan Marie has shared a fun new song about what it means to be country. In the tune, the young singer talks about listening to Johnny Cash, catching frogs and sipping on some sweet tea. "I'm from Flint, Mich., and even though we're an hour from Detroit, our town is completely country," Marie tells Radio Disney Country. "It's a way of life, and we're influenced by the city and the country, so I really wanted to write a song that shows what growing up there was all about. For my generation, I feel like we identify with those times and how lucky we are to be in this great country." "I Don't Know What Is" was penned by Marie alongside Nathan Chapman, Nelly Joy and Jason Reeves. -- CC 
Delta Rae, "Heart Won't Break":
Delta Rae's uplifting new "Heart Won't Break" shares a message of how to be heartbroken on your own terms. Co-written by the group's Eric and Ian Holljes alongside Alex Wong, the track flips a traditional breakup narrative on its head, instead providing an upbeat and danceable melody that focuses on the strength that comes from being devastated, but still in control of your own story.
"I was at my piano writing a sad song a month before I knew a breakup was coming. Ian came over and I played him this sad melody and lyric on the piano," Eric Holljes recalls in a press release. "He helped me transform it into something more defiant and upbeat. As soon as a relationship is over, you have to go from caring about a person more than anyone to acting like you don't care at all. It's the worst. You might as well have a song to dance to when you're going through something like that." -- CL