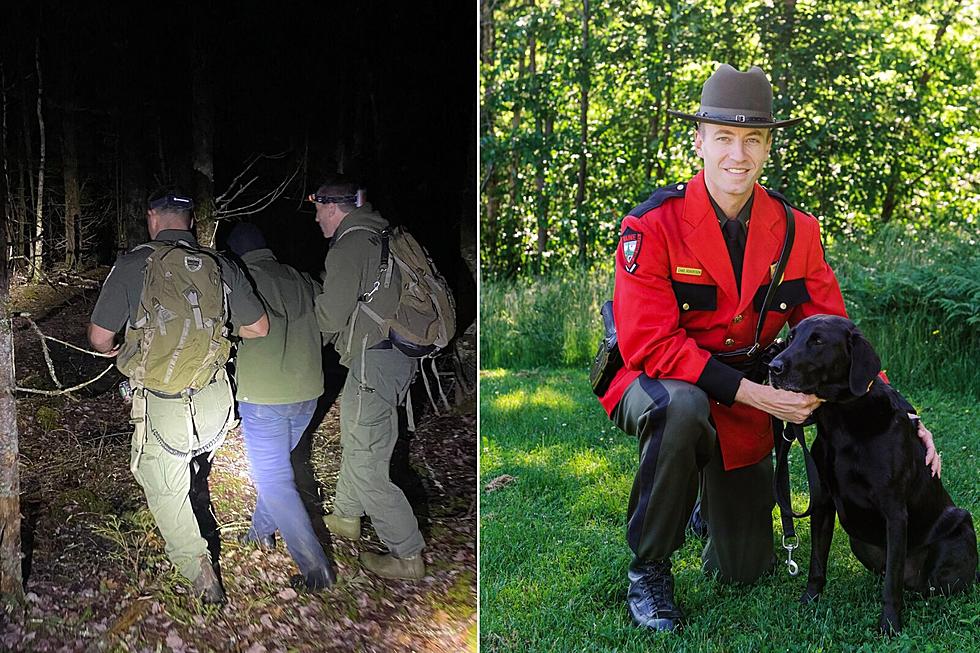 Maine Dog Helps Save the Life of a 'Severely Hypothermic' Woman Lost in the Woods
Maine Department of Inland Fisheries & Wildlife via Facebook/Canva Pro
A 65-year-old Maine woman had taken her dog for a walk near her home in Kennebunkport in the evening around 7:00pm. But, a half an hour later, the dog returned, the woman didn't.
The pup was found about a mile and a half from her home.
Her husband reported her missing so the cavalries came. The local police searched the area and also reached out to the Maine Warden Service. Luckily, the wardens located the GPS coordinates of the woman's phone. Because of that, K9 Storm and Game Warden Robertson were called in to search late that evening.
K9 Storm did what he does best and smelled the air. Storm picked up the woman's scent and led the warden straight to her a little after midnight.
She was located about 500 yards from her home.
Disoriented, wet, and cold Game Warden Robertson and Game Warden Hart gave her their shirt and jacket to keep her warm and walked her out of the woods hand in hand.
She was transported by Kennebunkport Fire/EMS ambulance and was taken to the hospital for further examination.
Where to Play Miniature Golf in Maine
The golf season is upon us. The mini golf season that is. Here's a comprehensive list of where you can go drop those hole-in-ones across Maine.
11 Maine Restaurants That Have Closed Since Being Featured on National Television Shows
Here's a list of 11 Maine restaurants that sadly have closed down since being featured on national television shows. Hopefully the list doesn't continue to get larger.