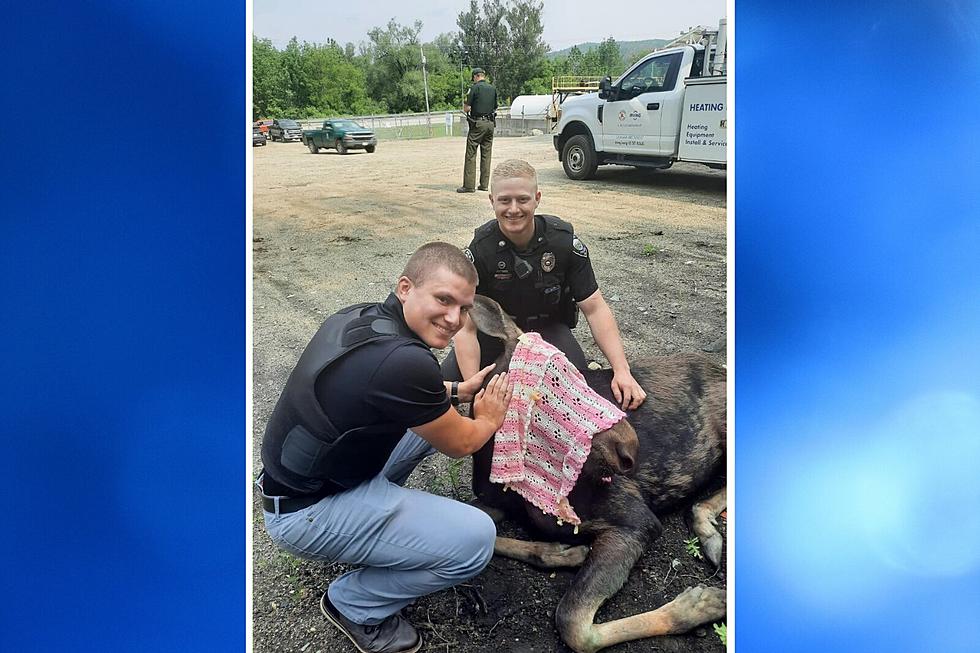 New Hampshire Police Help Rescue Young Moose Stuck Inside a Fence in the City
Berlin NH Police Department via Facebook/Canva Pro
Don't you love it when rescues take place so close to home, especially when it has to do with animals!
This heroic rescue took place in New Hampshire and was a joint effort between Berlin police officers and New Hampshire Fish and Game.
This is according to the Berlin NH Police Department who posted it in on their Facebook Page.
The young moose was found trapped inside of a fence within the city of Berlin.

This is a super display of teamwork! The crews were dispatched to help this moose that was unable to free itself, trapped and alone.
The officers carefully assessed the situation and with the guidance of the wildlife experts, they were able to tranquilize the young moose to ensure it remained calm and unharmed.
The safety of this young animal and the crews were the first priority. After calming the moose down they were able to safely transport the young one to a more suitable habitat.
Transportation was carefully performed and the extraction from the fence was a success.
This is something that is so remarkable to witness and it shows all of us how important our wildlife is to New England. This rescue is a testament to the effectiveness and commitment to preserving the natural wildlife in the area.
Discover Maine's Top 15 Trivia Nights for an Entertaining Challenge
Trivia has been a popular phenomenon that's been popping up all around Maine. Here are 15 spots in Maine that you can go to test your skills or just have fun!
Start Your Day by Visiting These 21 Breakfast Places in Maine