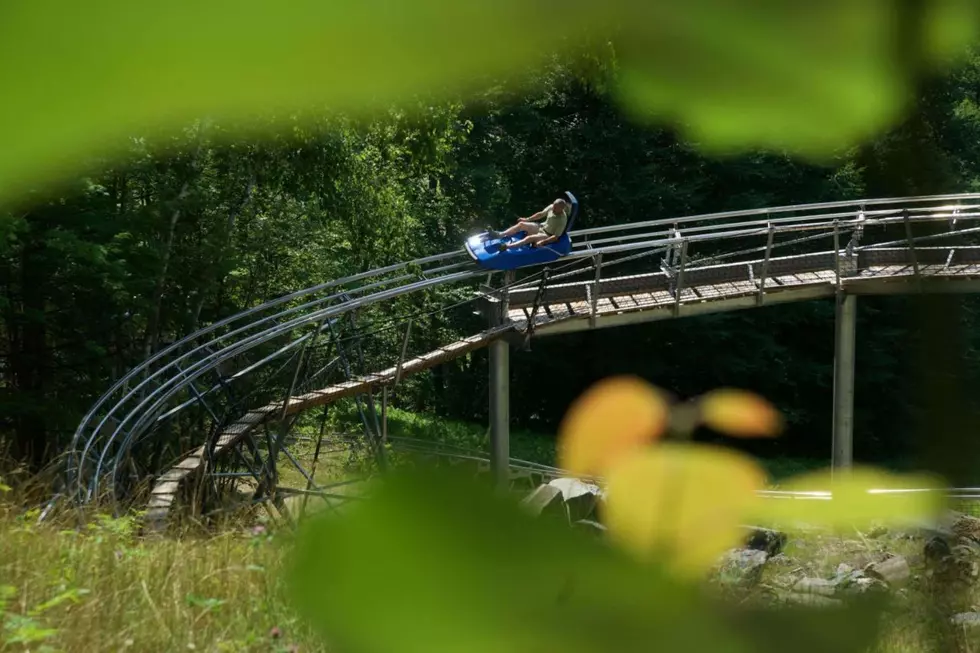 Wheeeee: See Fall Colors on America's Longest Mountain Coaster in Massachusetts
Berkshire East Mountain Resort
Wheeee! Put your hands up for fall leaf peeping fun while whizzing through the Berkshires on 3,780 feet of track.
It's called the Thunderbolt Mountain Roller Coaster, and it's incredibly unique, as you're in your own car for one or two people and can actually control the speed. You're free to zoom crazy fast or make it a more leisurely ride as you weave in and out of the forest canopy while feeling that crisp, New England air.  According to the website, the best way to think about this mountain coaster is "alpine slide meets roller coaster."
It's designed with swooping turns, banked corners, rolling drops, and 360° turns. Each cart is equipped with its own braking system, allowing you to slow speeds to a comfortable pace or accelerate to G-Force inducing levels.
This mountain roller coaster is at the Berkshire East Mountain Resort in the town of Charlemont, nestled in the Massachusetts region of the Berkshires.
This means that the list of activities is endless if you want this to be more than just a day trip or overnight stay, but rather a frolicking fall getaway.
The area also has zip-lining, camping, and a bike park.  You can even plan a trip around live concerts, or enjoy a quaint day of shopping and discovering new restaurants in the area.  No matter how you plan to tackle the Thunderbolt Mountain Roller Coaster, what pride to know that the longest one in North America sits in New England's own backyard.  Please note that it's only open from late spring through mid-November.
Check out the video below, and click here for all the info you need.
INSIDE: Tour Vanna White's Immaculate California Rental Property
Vanna White
is renting out her immaculate California home for nearly $20,000 a month, and it is worth every penny. The two-story home features a main bedroom suite that takes up the entire second floor. The main living area has a sharp, modern look with accompanied by a bright white kitchen. Outside design elements include a built-in stone fire pit alongside an infinity-edge swimming pool. All of this is set among breathtaking views of the nearby canyon.
Gallery Credit: Rob Carroll
Celebrities Who Were Murdered
It's shocking to hear when one of your fave actors, musicians or models is murdered. In fact, many of them still haunt us to this day. Below, discover 25 who were killed.
Gallery Credit: Natasha Reda