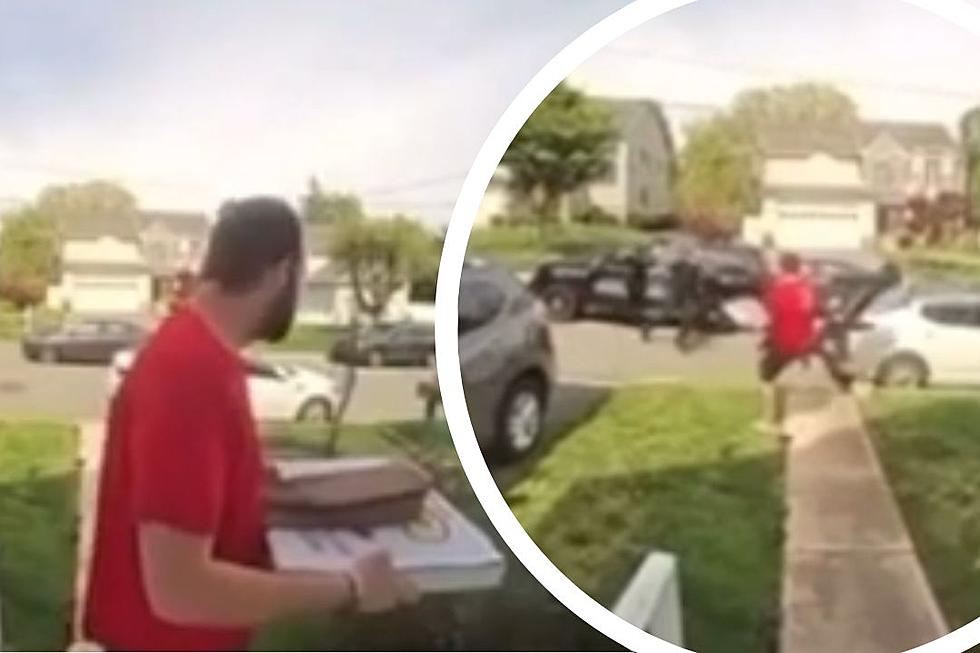 Pizza Delivery Driver Ends High-Speed Police Chase by Tripping Perpetrator: WATCH
u/deadstar420 via Reddit
A pizza delivery driver is being hailed a hero after he tripped a fleeing suspect who was trying to evade police following a high-speed car chase.
Like many pizza delivery drivers, Philadelphia-area Cocco's Pizza driver Tyler Morell might be used to the occasional bad tip or wrong address. However, he likely wasn't expecting to become an unwitting hero in a police chase when he went to deliver a fresh pie on Sunday (April 16).
In viral Ring footage shared on Reddit, Morell can be seen patiently waiting at his customer's door with a hot pizza in hand.
Suddenly, a car comes speeding through the quiet neighborhood street behind him, crashing into multiple vehicles along the way.
Morell and the customer watch as multiple police cars chase behind the stolen Kia, ultimately coming to a screeching halt in a neighboring yard where the perpetrator jumps out of his car and tries to evade the police on foot.
The suspect's getaway comes to an end when Morell, still holding the pizza box, briskly walks to the edge of the sidewalk and trips the young man as he attempts to run by him.
Watch below. Warning: Video contains strong language.
Pizza delivery guy ends police chase with his foot
by u/deadstar420 in nextfuckinglevel
Morell's quick decision to trip the 17-year-old alleged car thief led to the suspect's swift arrest.
"He gave us the help we needed. By tripping him, it gave us the time to catch up with the gentleman," Brookhaven Police Chief Michael Vice told ABC 7.
Morell, Reddit's favorite "pizza delivery guy," told the news outlet he is "so sick of seeing crime go on, especially half a mile down the road. So if they needed a hand or a foot, I was there."
And while the pizza Morell was delivering that day arrived just a little later than expected, his customer was more than understanding.
"Ten out of 10 delivery," Danielle Yeager told ABC 7.
Pop Stars and the Superheroes They Remind Us Of