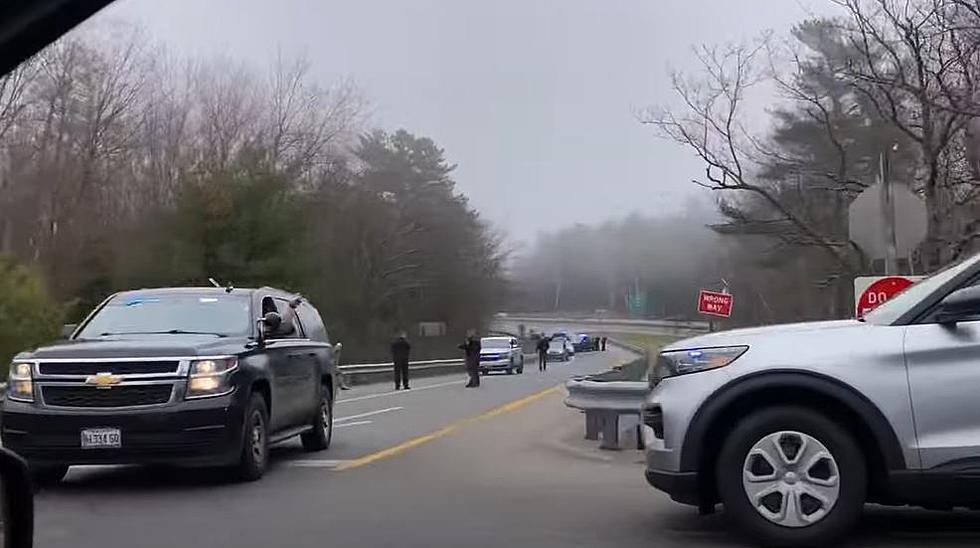 Police Say 'Incident' Has Closed Part of Maine I-295 Near Yarmouth
Youtube
UPDATE 3:30 PM Tuesday, April 18: Maine State Police say I-295 shooting connected to killing of four people in Bowdoin. Read more here.
UPDATE 12:45 PM
According to Maine Department of Public Safety spokesperson Shannon Moss, a search is under way for a second suspect.  This search is being done out of an abundance of caution.
She also said that this is not a road rage incident.  It is part of a larger investigation, but she cannot reveal details at this time.
She also said that we can expect a press conference or a press release later this afternoon.
---
UPDATE 12:35 PM
According to WGME, two people were shot in a Tuesday morning incident near I-295 in Falmouth.  Both people were reportedly taken to the hospital.  One of those people appears to be in serious condition.
Original story follows...
---
According to a report on the WMTW website, and in a Maine DOT post on Twitter, some kind of incident has closed part of Interstate 295 in Yarmouth on Tuesday, April 18.
As of noon, the southbound side of I-295 was closed.  It appears that Exit 17 is being used as a detour.  However, Maine DOT officials have confirmed they are having vehicles get off earlier at Exit 20.
Apparently, police are considering closing the northbound side of I-295, too.
Check out video taken by people passing by the incident.
According to the article, the Yarmouth Police Department has recommended those who are in the area shelter in place.
WMTW reporters on the scene say they can see several vehicles stopped near the scene of the incident and it looks as though the vehicles are several bullet holes in them.
We will continue to update this post as we learn more.
16 Maine Hidden Gems
Looking for inspiration for your Maine adventure? Check out our list of attractions, historic sites, restaurants, and performance venues.