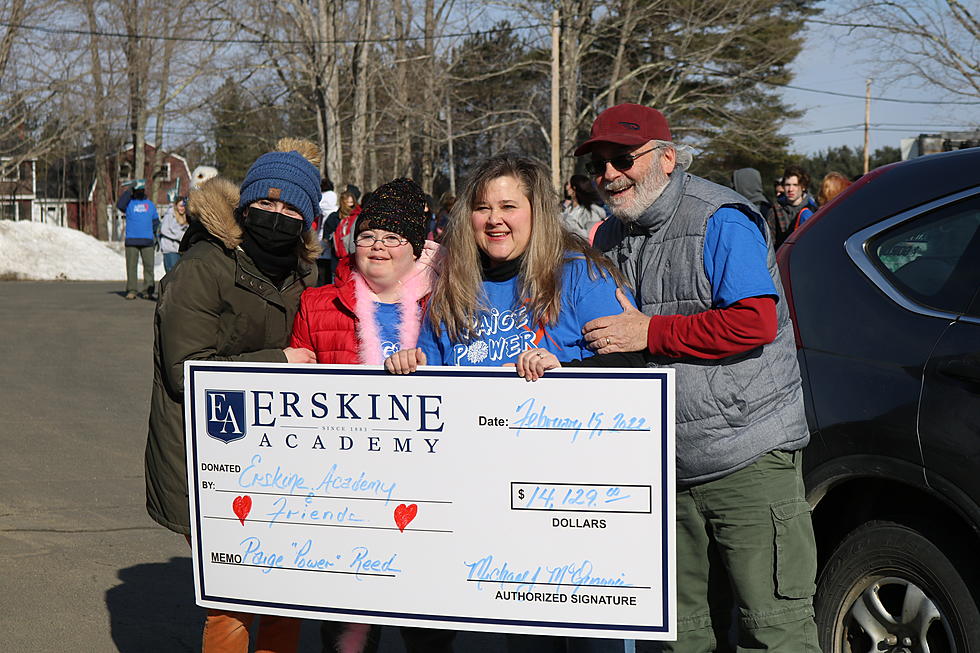 South China Maine's Erskine Academy Throws Epic Parade for Student Battling Cancer
Shara Macdonald, Erskine Academy
Picture this, 520 high school students gathering outside in the frigid temperatures for no other reason than to support someone they love. I promise you, this story will hit you directly in the super feels. Students of Erskine Academy in South China were outside awaiting the moment to present an extremely beloved student with a very thoughtful gift.
Who is this student you ask? I have learned that there is an unforgettable individual that attends Erskine Academy. She that has buckets full of school spirit and is known for her cartwheels.
Her name is Paige Reed. She is a cheerleader and has tons of school spirit. Paige recently was celebrating her 19th birthday and the celebration she was given will never be forgotten.
Since November 9th, Paige missed 55 days of school recently because she is battling her second bout with acute lymphoblastic leukemia. According to an article by Central Maine, Paige has a form of cancer that is reoccurring and is a part of an even smaller group of people with Down syndrome to contract her disease.
If you walk around Erskine, you don't have to ask anyone who Paige is. They all know because she shares her joyous spirit with all who are around her. She is even referred to as Paige "Power" Reed and is a proud cheerleader.
Now, to get back to the way we started, all of the students were outside awaiting Paige's arrival because they did something sneaky for her. During their Winter Carnival  and to celebrate her title as "Most Spirited", the students held a huge processional for Paige.
She was sitting in the front seat of the family car followed by a patrol car and had no idea what was happening. They pulled out all the stops, the event was festive and all for her.
The students held up signs with heartfelt messages, wore t-shirts they made for her, and the school band was playing. Even more special for Paige was her fellow cheerleaders shaking their pompoms in the air, to celebrate their sister.
They gifted her with a check for $14,129 and raised money to help Paige and her family through her cancer treatment.
The epic parade was filmed on Facebook Live and posted on the Erskine Academy Facebook page, if you want to check it out! Grab the tissues!

According to the article,
"the mid-teens outside the school buildings Tuesday afternoon and wore their blue "Paige 'Power' Reed" shirts in support. Students made signs and held them up, the band played and the cheering team, which Reed is a part of, raised their pom-poms."
Every week Paige has to travel to Portland for her treatment and each month is visiting Boston as well.
Her beloved cheering coach, Julie Wing wanted to do something for Paige and her family to show her that she has support and the students have been impacted by her, so she came up with this special surprise.
Additionally,
"Reed has been a part of the team for the past four years and calls it her "passion." Most of the money raised for Reed's cancer treatment was from cheering teams across the central Maine area, Wing said. Lawrence High School, Gardiner Area High School and Morse High School were a few that pitched in to help."
A large amount of the money came from selling the T-Shirts that the students made to wear for Paige. Students also presented Paige and her family with gift cards, individually.
This young woman has inspired so many she is never lacks in love to spread. When you are sick, you never want to be alone. Paige's classmates, teachers, and community will never let her feel anything short of supported and loved. It is a tight family they've created and it shows us all how beautiful humanity is.
It's Not All Bad News - The Good Things Mainers Are Doing for Each Other
It's Not All Bad News - The Good Things Mainers Are Doing for Each Other
Random good deeds are trending and here is what we are doing to help our friends and neighbors in Maine.
Best Tattoos Shops in Maine, According to You
Best Tattoos Shops in Maine, According to You
I asked you all where the best Tattoo shops here in Maine were and boy did you share the coolest artists with me!