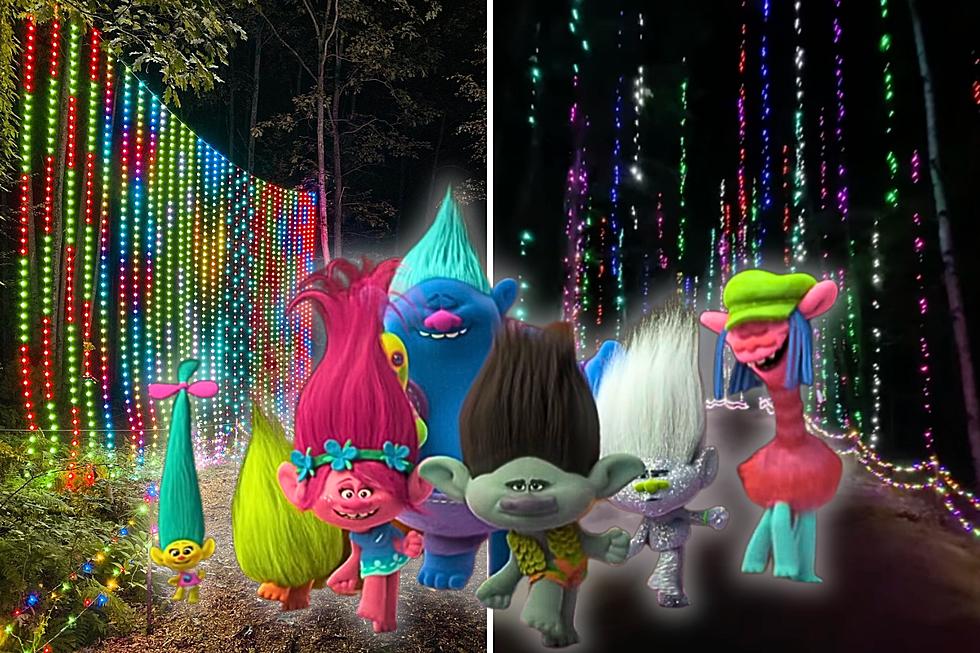 This Maine Farm Trail Is Like a Trolls Movie Come to Life
Sandy Hill via Facebook; Peacock Kids via YouTube
Some of the most popular animated movies of the 2000s have been DreamWorks "Trolls" movies.
The first one, which came out in 2016, was a huge hit.  The second, which dropped in the Spring of 2020 helped keep our kids occupied during the pandemic.
The third movie in the franchise, which is supposed to come out in November, is going to be one of the biggest movies of 2023.
In addition to the movies themselves, there has also been an animated series and several specials.
Filled with bright colors, catchy songs, and a family-friendly storyline, it is no wonder that people love them!
Can you imagine how excited your kids would be if they could step into a real-life Trolls world?
One Maine farm gives your family a chance to do just that!
Sandy Hill Farm, in the small Maine town of Eliot, is currently running an illuminated trail walk that they call "Can't Stop This Feeling".
Much like their Holiday lights walk, the attraction features a mile-long walk through illuminated woods. The hundreds of thousands of lights are said to dance and change patterns with the beat of the music.
The music and lights together create a magical experience for the young and old.
At least some of the displays are interactive, too.  The farm website explains:
Along the trail, interactive elements invite you to engage with the show. Bursts of light and whimsical effects will respond to your movements and add a layer of playful interactivity to the experience. You will become an integral part of the symphony, co-creating the mesmerizing display as you journey along.
The attraction will be open through October 29th and tickets cost between $11 and $13.
One of the things we really love about this trail is that, even though it is happening around Halloween, it is not scary.  Instead, it is meant to be a fun, colorful way to celebrate the fall season.
Of course, the farm makes no reference to the popular movies in the social media or website posts about the trail.  That's just the first thing that popped in our heads when we heard about the attraction.
They also plan to do their Holiday lights displays later this year.  Check out a video of the 2022 Holiday lights.
What is your favorite fall attraction here in Maine?  Let us know by sending us a message through our app.
New England Haunted Attractions
We've put together a list of some of the best haunted attractions from around Maine, New Hampshire, and Massachusetts. What else needs to be on our list? Let us know by messaging us through our app.