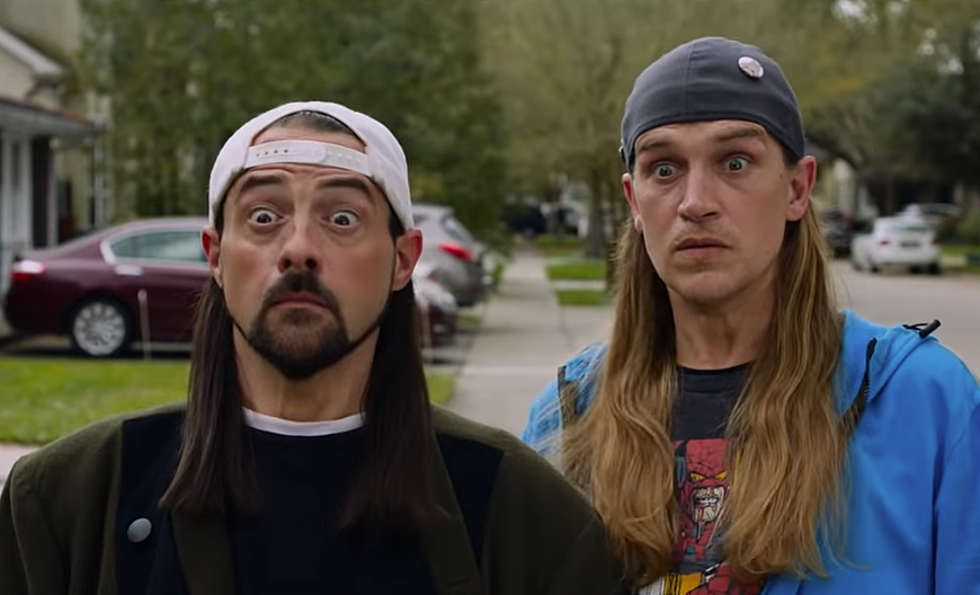 Watch the New Jay and Silent Bob WITH Kevin Smith in Portland!
Kevin Smith via YouTube
An exciting show was just announced for anyone who's a fan of the cult classics featuring Jay and Silent Bob such as Clerks, Clerks II, Chasing Amy, Dogma, and Jay and Silent Bob Strike Back.
The first live-action Jay and Silent Bob film in 13 years, Jay and Silent Bob Reboot is set to release in theaters on October 15th with Kevin Smith once again directing and playing Silent Bob. The premise of the film is that Hollywood is looking to reboot 'Bluntman and Chronic' from Jay and Silent Bob Strike Back and once again the dynamic duo is looking to stop it from being released. In a new twist, Jay is now a father.
Check out the hilarious, and NSFW trailer below:
The film will feature familiar faces from past films such as Ben Affleck, Rosario Dawson, Jason Lee, Joey Lauren Adams, and more.
You'll also notice some big-name additions such as Chris Hemsworth and Matt Damon. Currently, IMDB does not list Chris Hemsworth's role but lists Matt Damon as playing the character "Loki". Anyone who's a fan of the Marvel films knows that Chris Hemsworth played Thor and Matt Damon had a cameo in Thor: Ragnarok where he played a character that portrayed Thor's brother, Loki, in a play on the planet Asgard. With the Jay and Silent Bob movies having strong ties with comic books, and often poking fun at their own cast, it wouldn't be surprising if there was a hilarious nod to the Avengers.
To promote the film and connect with fans, Kevin Smith is setting off on the Jay and Silent Bob Reboot Roadshow, a tour where you can watch the movie with Kevin Smith himself and some stops featuring Jason Mewes who plays Jay. The event is scheduled for February 6th, 2020 at the State Theater in Portland.
Tickets will go on presale on September 18th and on sale to the public on September 20th. Reserved seating tickets range from $25-$60.
Many of the shows on the books have already sold out so be sure to follow the Facebook event page so you don't miss out!