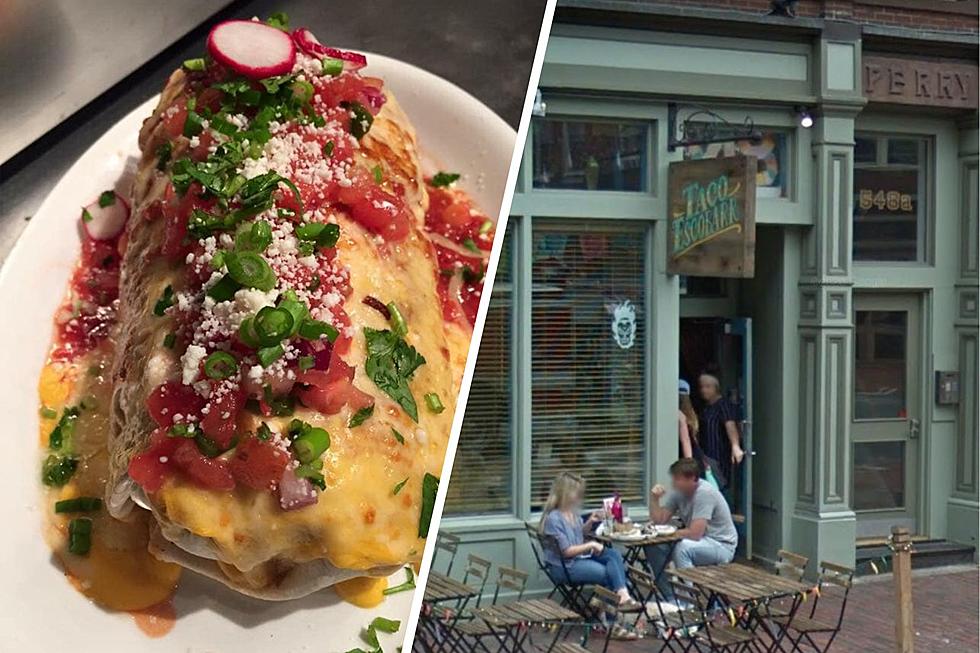 The Best Burrito in Maine Can Be Found at This Popular Portland Restaurant
Taco Escobarr via Facebook, Google Maps
Who doesn't love a delicious burrito?
Honestly, what's not to love? It's a warm and soft tortilla, loaded with cheese, vegetables, rice, beans, beef, chicken, or any other protein. Then on top of that, there's salsa, hot sauce, guacamole, and sour cream to dip this handheld monster into. It's the perfect food for any occasion. Hell, there's even an entire market for breakfast burritos.
So, who has the best burrito around? One national website says it's a Mexican restaurant right in the heart of Portland's Arts District that takes the cake over the rest of the burrito field.
The popular website Love Food recently named the popular restaurant Taco Escobarr as the place to grab your next burrito. The local joint has been a fixture in Portland for a decade, with its tasty tacos, margaritas, and those mega burritos.
This burrito is anything, but standard. To start, you can choose from 10 different proteins, including steak, chicken, chorizo, fish, and even shrimp. Then the real fun begins, with rice, beans, queso fresco (that's some good cheese), red cabbage, Pico de Gallo, and finally a little crema. You also have the choice of adding guacamole to it (yes, please), or even smothering it with cheese and other goodies. You know, like what you would do with hash browns at Denny's. This thing is an absolute tank, definitely not for the faint of heart.
Now comes the best part, eating it. This behemoth will hit those taste buds perfectly. And, who knows, it might end up being two meals for you in one day.
Don't just take my word for it. Here is a little of what Love Food had to say about Taco Escobarr's deliciousness.
For a burrito in stylish surroundings, head to Taco Escobarr, a funky, colorful tavern decked out in twinkly lights. Go for a smothered burrito and choose from 10 tasty fillings including vegan-friendly ancho chili butternut squash or grilled jalapeño and lime shrimp, both of which come highly recommended.
Okay, now we will all dream about smothered burritos tonight, and that's not such a bad thing.
This is some great publicity for a Maine small business that continues to thrive. Congrats to Taco Escobarr on the wonderful national attention. Here's to serving many more smothered burritos to the masses.
31 Bucket List Restaurants in Maine
Here are 31 Maine restaurants that folks told us are bucket list worthy. They are very diverse can be found across the state.
20 Portland, Maine, Restaurants That Have Been Featured on National Television Shows
Here's a list of 20 prominent Portland, Maine restaurants that have been featured on national television shows. This is a great representation of Portland's incredible food scene.