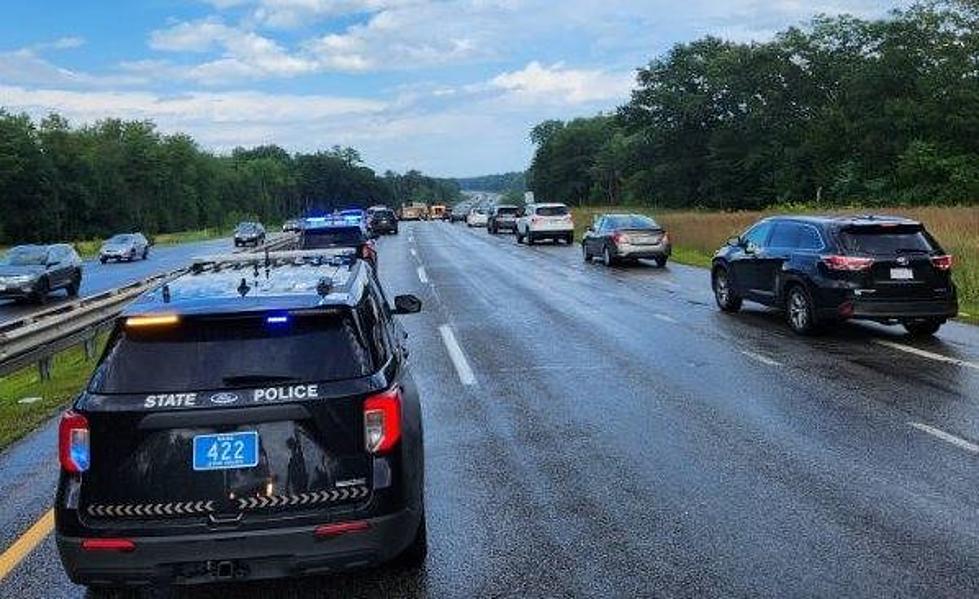 14 Vehicles Involved In Sunday Afternoon Crash On Maine I-295
Maine State Police
Yesterday afternoon, much of Maine got slammed with several rounds of severe thunderstorms.  In many cases, these storms included downpours that were capable of blinding drivers.
The area near Freeport seemed to get hit especially hard.  A co-worker who lives in the area mentioned that they received at least four significant thunderstorms over the course of the afternoon.
It looks like that blinding rain ended up causing a series of crashes, that involved over a dozen vehicles, on the northbound side of I-295.
According to a press release from the Maine Department of Public Safety, the Maine State Police were called out to the scene of a crash at about 3 PM on Sunday.
When they arrived, troopers discovered that a total of 14 vehicles were involved in at least five separate crashes.  Happening near mile marker 22 in Freeport, the crashes were scattered across a half mile section of the highway.
Fortunately, no one was seriously injured in the crashes.
The press release goes on to say:
Heavy down pours along with significantly heavy traffic were factors.  No major injuries were sustained as a result of the crash however one party was transported to Midcoast Hospital in Brunswick to be treated for minor injuries.
As most of the crashes were minor, only five of the vehicles needed to be towed from the scene.  All others were drivable.
The press release goes on to say that it took a little over an hour to clear the scene and to get both lanes back open.
6 Changes Coming To Walmart
According to
The Sun
, Walmart will be making some big changes to their stores over the next few years. Here are a few of the more notable changes