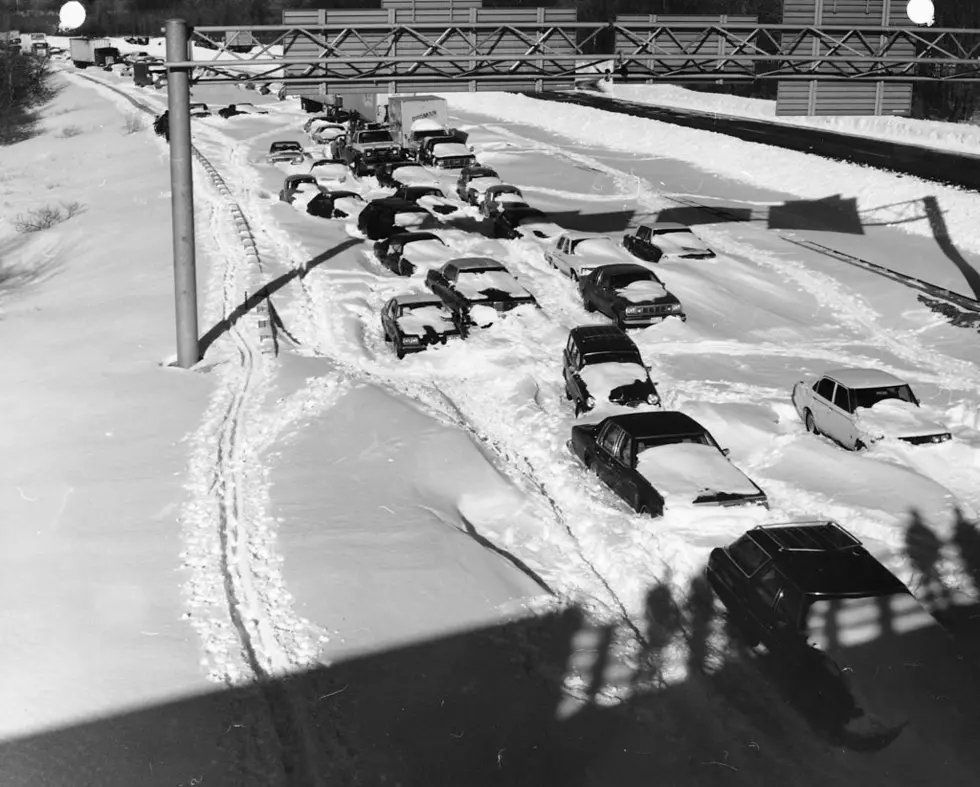 43 Years Ago Today Marks The Blizzard Of 1978
Wikipedia.com
I find it slightly hard to believe but 43 years ago today marks the blizzard of 1978. The statistics surrounding the storm alone are staggering. It began February 6 and ended February 8 in Maine and left a trail of destruction.
In Massachusetts route 128 became a parking lot. Thousands of people were stranded.  It was responsible for around 100 deaths, thousands of injuries, and the destruction of at least 2000 homes and damage to well over 10,000.
This blizzard destroyed the well-known Old Orchard Beach pier.   The pounding waves and highlands were too much for the old pier to withstand. Several homes along shore were damaged or destroyed.
Closer to home the storm took out a lovely old sawmill owned by a family member.  The culvert above the sawmill could not withstand the brutal attack the storm unleashed and the entire road gave way. This rush of water and debris swept away the saw mill. The remains of the sawmill can be seen while hiking the Goose River Peace Corps Preserve trail located in Waldoboro.
The trail takes you through a heavily wood forest and loops you around to walk along the rushing stream. It is a lovely hike year round although beware of black flies in the spring Near the top of the stream you can what is left of the once bustling saw mill. It is a reminder of not only years gone by but of the blizzard of 1978.
---
---
Do you have our free radio station app yet? If not, it's the perfect way to request a song, talk to the DJs, enter exclusive contests and to stay up to date with everything that's happening in and around Central Maine and the world. When you download it, make sure you turn on the push notifications so that we can send you exclusive content and local breaking news that you need to know about first. Just enter your mobile number below and we'll send a download link right to your mobile device. After that, you can download for free and immediately begin accessing all kinds of exclusive content tailored just for you. Give it a try and stay connected with us!
Enter your number to get our free mobile app
LOOK: See the iconic cars that debuted the year you were born
Limited Edition MSP Cruisers