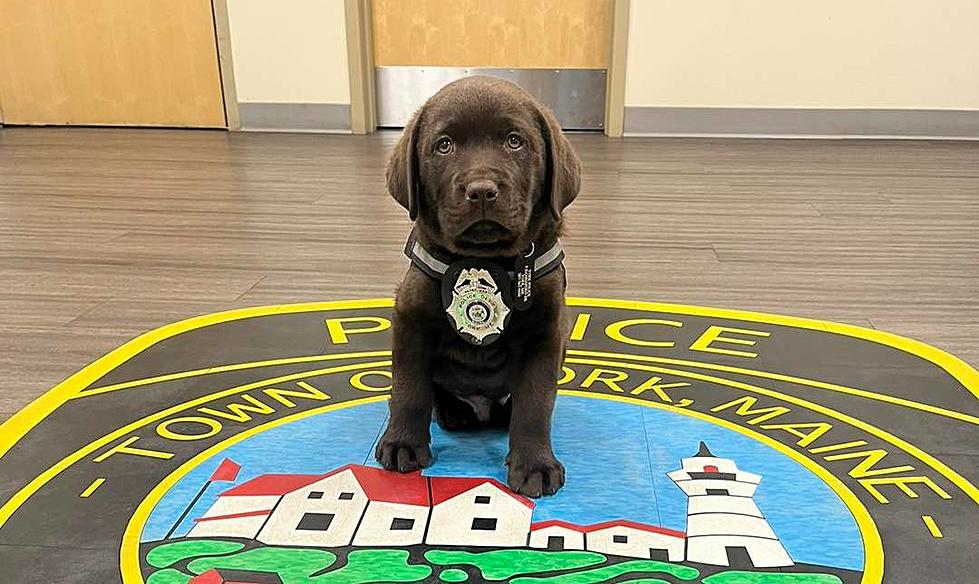 Who's a Good Boy? York, Maine's Cutest New Recruit on the Police Force
York Maine Police Dept Facebook
It's almost worth getting arrested in York just to see the newest member of the force.
The York, Maine, Police Department proudly announced their newest four-legged addition on their Facebook page. His name is Major.
His badge is almost as big as he is! Major was born on 9/10/2023. A Virgo! I knew this pup had a lot going for him. According to the Facebook post,
Major is here to provide crucial First Responder peer support, assist victims, ease the trauma for people affected by tragic, traumatic, and violent events, and engage with the community.
He's doing it already with that picture! One of the hundreds of comments reflected just that.
Major's dedicated handler, Officer Michael Taddei, is always ready to assist and answer your questions. If you see these two, they want you to stop by and say hi. Plus, Major is a sucker for a good belly rub. He's just beginning his journey of training, and has a lot to learn. But if you want to follow this sweet thing, you can on Instagram.
There's something remarkable about a squishy puppy face that can make grown men suddenly start speaking in baby talk. Major has what I'm going to assume can be a very rewarding and tough job to handle. But if anything is going to make me walk the streets of York, Maine, this little guy will. I wonder if Officer Taddei is single, because be warned, officer, Major is a major chick magnet. Welcome to the force!
LOOK: Longest-living dog breeds
Gallery Credit: Sophia June
LOOK: The most popular dog names of 2022 in every state
Hey dog lovers, check out this awesome list of the most popular dog names in 2022 for every state, and get ready for some serious cuteness overload.
Gallery Credit: Amber Spencer-Knowles